Georgian Mess Dinner


For 15 years, The Friends of Fort York and Garrison Common have staged a "Georgian Mess Dinner" as their major fundraiser in support of programming at Fort York National Historic Site. We are proud to state that it is the only authentic Georgian fine dining experience in Ontario, thanks to the creative efforts of the fort staff, members of the City of Toronto Volunteer Historic Cooking Group, and the caterers at Berkley Hospitality.

In 2013, the dinner was held on September 26 to Commemorate the Bicentennial of the Reconstruction of Fort York. Three courses were served, paired with wines appropriate to the flavours of the varied dishes, both sweet and savoury. It was a remarkable dining experience which included a toast to General Brock the saviour of Upper Canada, just as it was done throughout southern Ontario in the nineteenth century.

Currently the money is raised in support of the Fort York Guard and Fife and Drums, who provide lively animation in the summer and who also travel as goodwill ambassadors to represent Fort York at other historical sites. The money raised going forward will be especially important given the increased programming with the War of 1812 Bicentennial as well as opportunities to travel.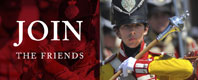 Don't miss your next opportunity to dine as the officers once did. This event is by invitation only, and is extended only to members of The Friends of Fort York and Garrison Common and Corporate Sponsors. In recognition of their significant contribution, members of the Patron of Fort York level and Corporate Sponsors are recognized publicly on our website and in the dinner programme.
Please join The Friends of Fort York or become a Corporate Sponsor to receive your exclusive invitation to next year's 16th annual Georgian Mess Dinner. You will be guaranteed a fabulous meal and you will be helping an irreplaceable asset in the Fort York Guard.