Fort York Visitor Centre: Worth the Wait
Catherine Nasmith | September 26, 2014
From Issue No. 233 | September 26, 2014
If you haven't been yet, run don't walk to look at the Fort York Visitor Centre.
Dreamed about for over 30 years, since it was a gleam in the eye of the late George Waters, it is finally open. All that wishing and hoping and planning and dreaming has paid off with a spectacular, elegant, understated result. One that is brilliantly of its day yet timeless. Kearns Mancini and Patkau architects are to be congratulated along with so many others for keeping the essence of the design through the inevitable compromises of budget and construction.
The design is a simple idea….the building as retaining wall, marking the edge of the former shore line, and through ramps moving the visitor from one plane to another, a time tunnel from the modern city including the Gardiner Expressway up to Toronto's founding place of over two hundred years ago. Built in core-ten steel, a material requiring little ongoing maintenance, it's crisp panels are reminiscent of the shoring of construction sites, and the earth colour of the bank. The way the panels just flip up to invite you into the bright spacious interior is also brilliantly simple.
The landscaping is missing for the moment, yet I rather enjoyed the simply raked soil bringing a brown ground surface up to the walls. To keep that effect would take a lot of weeding!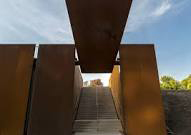 So many people are to be thanked, but I want in particular to salute our friend Stephen Otto, whose passion, persistence, diplomacy and wisdom led to the founding of both the Friends of Fort York, and the Fort York Foundation. He is a hard person to say no to, and he brings so many others into his generous and ever expanding circle of "friends", all called in to serve when it is their turn to help. As he said to me in a recent conversation, "25 years from now when we are all looking down from our clouds we can feel proud of what we have achieved"….Amen. No one should be prouder, yet is so modest about it, than Steve himself.
P.S. And don't miss Charlie Pachter's War of 1812 series, on display in the visitor centre while you are there.