World War 1 Books Available in the Museum Store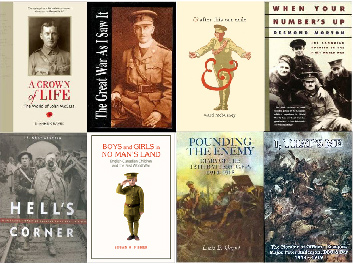 To complement the Great War exhibits at the Fort York Visitor Centre, the Fort York Museum Store is offering an impressive array of World War 1 titles. Whether you are a casual reader or a military enthusiast, there is something here for everyone.
To learn more about World War 1 from a Canadian perspective visit the Museum Store today.

For further information call 416-392-7484.
Now available at the Fort York Museum Store
- Winning The Ridge The Canadians At Vimy Ridge 1917, N.M. Christie
- Lights Out!, Sister Kate Wilson
- Not Mentioned In Dispatches, Sergeant Fred Bagnall
- I, That's Me., Major Peter Anderson D.S.O. & Bar
- Prisoner 5-1-11:The Memoir Of Harry Laird, 4Th Canadian Mounted Rifles 1914-18, Donald Henry Laird
- Pounding The Enemy, Lucie E. Gagné
- The Great War As I Saw It, Canon Frederick G. Scott C.M.G.,D.S.O.
- A Crown Of Life- John Mccrae, Dianne Graves
- The Canadian Corps In Ww1, René Chartrand
- Stanly Barracks, Alsona Sendzikas
- Hells Corner, J.L. Granatstein
- Digging The Trench, Andrew Robertshaw
- Boys And Girls In No Man's Land, Susan R. Fisher
- Canadian Army At War, Mike Chappell
- When Your Number's Up, Desmond Morton
- Canadian Military History, J.L. Granatstein & Dean F. Oliver
- For Freedom And Honour, A.B. Godefroy
- & After This Our Exile, Ward Mcburney
- Sap's War, Ward Mcburney