Managers Report (spring 2015)
by David O'Hara, Site Manager

With the demolition of the Garrison Road Bridge, another major piece of Fort York landscape master plan is falling into place. Although the bridge is now totally gone there is still a significant amount of fill removal and grading to be completed before the area is again functional. Due to unforeseen utility issues and the significant amount of rain throughout May, this has been delayed and will not be complete until after our major event season in order to avoid disruptions.

All of this requires a short walk for staff and visitors from the parking lot at Strachan Avenue and Fleet Street to the Visitor Centre before accessing Fort York. When all work in the area is complete, including the overhead work on the Gardiner Expressway, there will be a direct connection from the west end of the Visitor Centre to all parking.
A well-attended public meeting for the Fort York Pedestrian and Cycle Bridge was held at Fort York on June 2. Although a final decision on which bridge design will be selected has yet to be announced, images from each of the three schemes can be seen at http://fortyorkbridge.mmm.ca/#/PIC2

Mid-June marked the end of our recent exhibition The Art of Command by Gertrude Kearns. Gertrude's large format drawings, paintings and texted fine art prints were very well received by visitors.
On June 18 we opened a new exhibition in the Visitor Centre. Gazing Back, Looking Forward presents contemporary works by Indigenous North American artists who explore, (re-) imagine, and (re-)present Indigenous identity. The exhibition is curated by Rheanne Chartrand, the Artistic Director of the Aboriginal Pavilion.
We're also pleased to have Niinwin-Dabaadjmowin - We Are Talking, back at Fort York. This mural is 80-feet-long and 20 panels and was created under the leadership of Philip Cote and Rebecca Baird with young people from the Na-Me-Res Tumivut Youth Shelter and in collaboration with Fort York. Niinwin-Dabaadjmowin - We Are Talking depicts the story of the origins of the Anishnaabe people. The mural, which was first exhibited at Fort York 2005, will be on display until September.

Murdered and Missing Indigenous Women, Girls and Men is an exhibit currently on display in the Visitor Centre lobby. Created by native men residents at Na-Me-Res under the guidance of Na-Me-Res staff and Red Pepper Spectacle Arts the exhibit portrays the infamous story of the 1797 murders at York of Chief Wabakinine of the Mississauga of the New Credit First Nation, his wife and sister.

Our 2015 season has already been an extremely busy one as we've moved from World Fiddle Day, Sound of Dragon and Doors Open to Field Trip and our very own Indigenous Arts Festival.
Fort York was busy once again during Doors Open, which included tours of the site for those attending the Cultural Landscape Foundation conference held in Toronto this year. The "What's Out There Guides" by the Cultural Landscape Foundation, Washington, DC, features Fort York and can be found at http://tclf.org/sites/default/files/microsites/wot-guides.html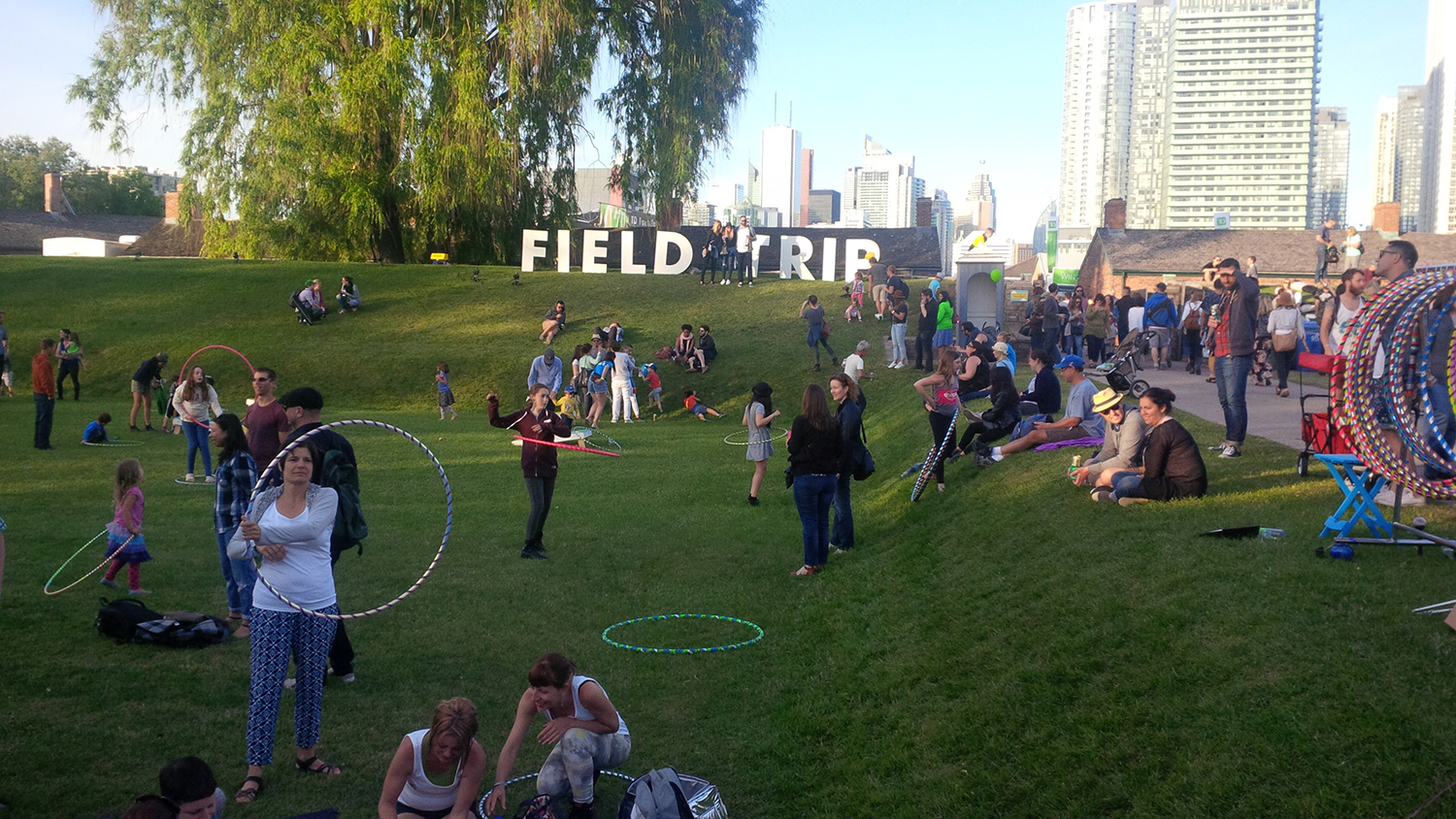 Field Trip was very successful again this year with a great line-up and plenty to do for all ages. This event brings thousands down to Fort York to enjoy the programming and to learn more about Fort York itself.
Driven by our Supervisor of Special Events, Robert Kerr, our third annual Indigenous Arts Festival was bigger and better than ever. Presented in partnership with the Mississaugas of the New Credit First Nation, and with financial support from TD Bank and the Department of Canadian Heritage, the festival was a celebration of traditional and contemporary music, dance, theatre, storytelling, visual arts, spoken word, crafts and food created by indigenous artists from across Canada.
The festival lineup included, among many others, music multi-award winning throat singer Tanya Tagaq, Red Sky Performance's theatre/dance piece "Mistatim", and author Joseph Boyden, with over 4000 people attending on Saturday alone.

Presented by Na-Me-Res, the Mississaugas of the New Credit First Nation, and Fort York, the 14th annual Na-Me-Res Traditional Outdoor Pow-Wow was held at Fort York on Sunday June 21 to recognize National Aboriginal Day. Almost 10, 000 people attended the Pow-Wow with dancing, drumming, and a gala concert to close the day.

We are grateful for the opportunity to host Na-Me-Res' Pow-Wow at Fort York and would like to thank the staff, volunteers and participants for making it such an extraordinary experience.