Manager's Report (winter 2016)
by David O'Hara, Site Manager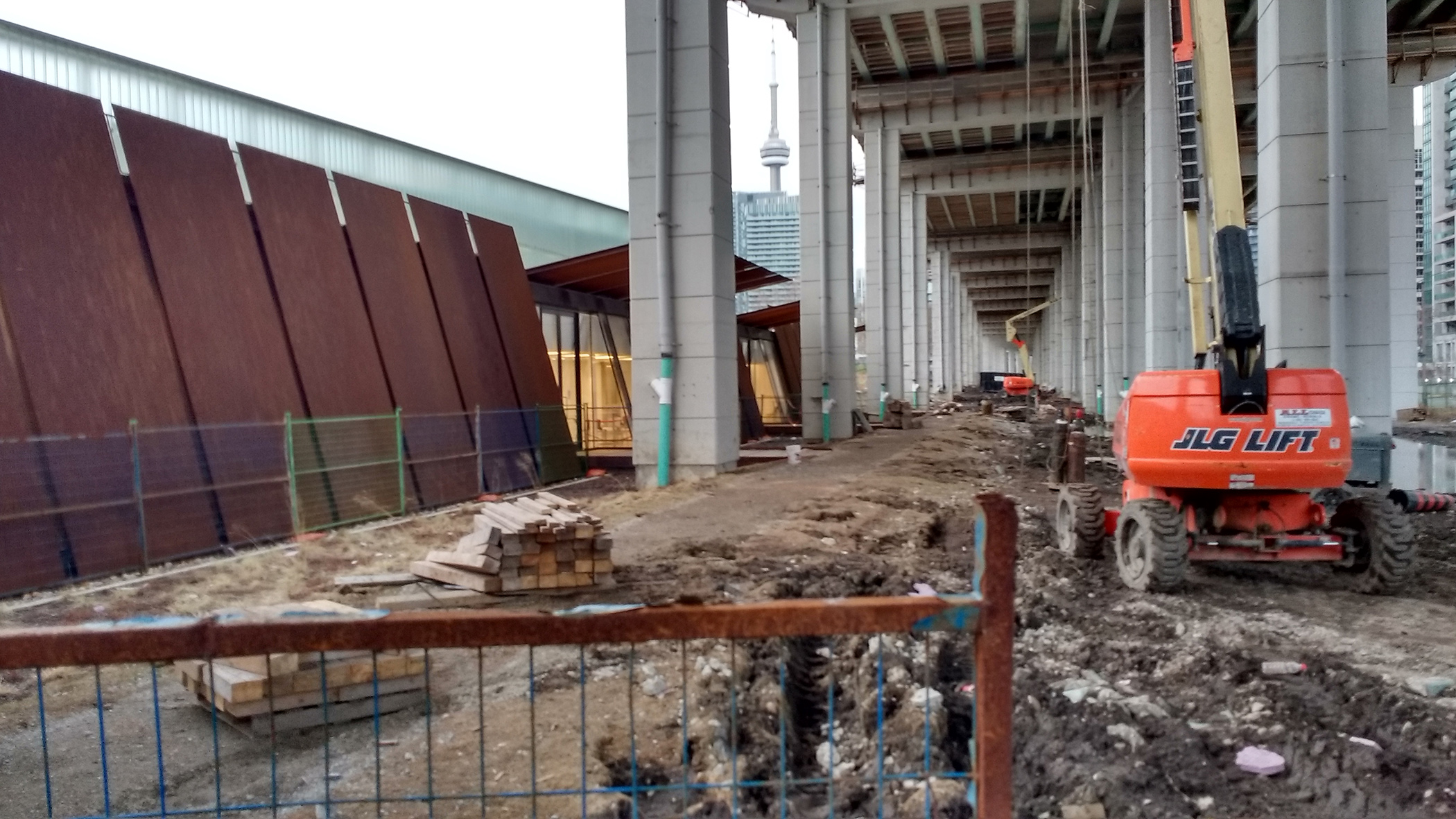 Gardiner Expressway deck rehabilitation construction as seen in front of the Visitor Centre, Fort York National Historic Site. Credit: Ted Smolak

2016 will likely go down as one of the most difficult years in which to access Fort York since the late 19th century. With ongoing work on the Gardiner Expressway continuing through until the fall, work on
Garrison Road and Garrison Common, exhibit work within the Visitor Centre, and the start of construction on the Fort York pedestrian/bicycle bridge, access to the fort will be less than ideal.
While construction will continue into 2017 with Project: Under Gardiner and the completion of the pedestrian/bicycle bridge, many of the major site improvements we have been working towards will begin to materialize over the next year or so. This includes stronger connections from the north via the new bridge, a more direct connection from the large parking lot at Fleet Street and Strachan Avenue to the Visitor Centre, and improved connections and landscaping across the Fort York Boulevard frontage of the site.
As reported in the November issue of Fife and Drum (www.fortyork.ca/images/newsletters/fife-and-drum-2015/fife-and-drum-nov-2015.pdf), Project: Under Gardiner (www.undergardiner.com) is the result of a $25 million donation from Wil and Judy Matthews. Extending from Exhibition Place in the west to Spadina Avenue in the east, the largest portion of the project runs through Fort York National Historic Site. This provides an unprecedented opportunity to implement the next major phase of our landscape master plan across the Fort York Boulevard frontage. While the final components of the first phase of the project have yet to be confirmed, we are hopeful that the initiative will spark interest in completion of the east extension of the Visitor Centre's weathered steel façade. The full façade, as originally envisioned by Patkau Architects and Kearns Mancini Architects, has yet to be constructed and is currently unfunded.
With work proceeding across the grounds of the fort, exhibit installation is well underway within the Visitor Centre. Our staff team has been working closely with Toronto-based exhibit designers Reich + Petch and fabricator The Taylor Group. Exhibits in the lobby, exhibit gallery, vault, and 'Time Tunnel' will be put in place over the next couple of months and will open to the public at some point in early summer (date to be confirmed). A new orientation film is also being developed by Hillman & Carr of Toronto and Washington, DC.
Even with major construction and access restrictions, our 2016 calendar of events and programs remains a busy one. With Queen Charlotte's Ball, the Art of Peace, and Mad for Marmalade (sold out) already behind us, next up and taking us through until June will be our Battle of York Commemorative Weekend, World Fiddle Day, Doors Open, Artillery Day, and the 48th Highlanders 125th Parade and Mini-Tattoo. The summer months will again be busy with many events big and small.
We hope visitors are patient throughout the year as we work through many of the improvements noted above.