Managers Report (Spring 2017)
by David O'Hara, Site Manager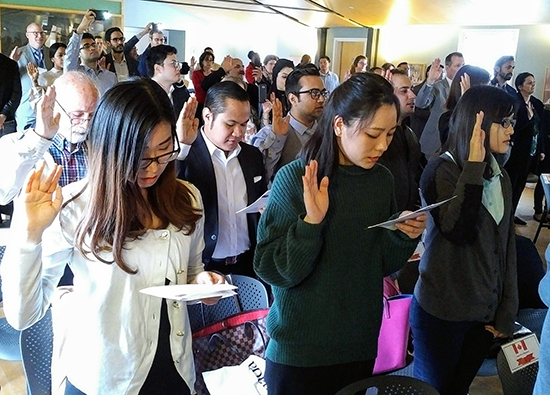 Candidates for Canadian Citizenship at Fort York, 19 April 2017. Photo by Lambrina Nikolaou
The first half of 2017 has been busy at Fort York. As part of the city's Canada 150 TO Canada with Love program (and in partnership with the Ontario150 program) Fort York hosted Vimy 100 Toronto on April 8 - 9 with close to 5000 people visiting throughout the weekend to participate in a variety of free programs. The Sunday included a Service of
Remembrance with Canadian Armed Forces to mark the 100th anniversary of the Battle of Vimy Ridge. Attending were the Mayor, Lieutenant Governor, Premier, Chief Stacey LaForme, Consuls General of France, Germany, and Great Britain, and many more.
On April 19 Fort York hosted one of its two annual citizenship ceremonies in partnership with the Institute for Canadian Citizenship. There were forty-two new citizens and approximately eighty overall participants in the round table discussions, ceremony, and lunch reception. MP Adam Vaughan was a guest speaker as well as Chief Stacey LaForme from Mississaugas of the New Credit First Nation.
Our Battle of York weekend, April 22 - 23, included themed tours, cooking demonstrations, and kids' activities. The regimental colours of the 3rd Regiment of York Militia were back on display in the special collections 'Vault' within the Visitor Centre. This is one of the two colours (flags) of a local militia unit that defended the Town of York during the Battle of York that were generously donated to the City of Toronto by St. James' Cathedral for display at Fort York. Richard Haynes, our site coordinator, conducted two Battle of York walking tours focussing on the combatants as well as the course and outcome of the battle while visitors enjoyed the new War of 1812 exhibits, and in particular the Battle of York immersive experience. We hope more people come down to see these new features in the coming months.
Moving into May we partnered with the Scotiabank CONTACT Photography Festival and hosted an installation by Governor General Award-winning photographer Shelley Niro (Mohawk, Turtle Clan). Titled Battlefield of My Ancestors, the series documents the historic battlefields that hold significance for Niro's people. Sixteen images were displayed at Fort York with additional examples at Ryerson for the mmonth of May, and as part of the Indigenous Arts Festival. We were pleased to see Shelley Niro presented with the 2017 Scotiabank Photography Award. Congratulations once again and thank you to our partners at CONTACT and at the Ryerson Image Centre. www.scotiabank.com/photoaward
Also in May, more than 3000 people moved through Fort York as part of the 16th annual Meagan's Walk http://www.meaganswalk.com/meaganswalk.com/ and we were pleased to host a group of University of Toronto Museum Studies students who visited our historic kitchen as part of their work on an exhibit which will showcase culinary culture in Canada through the work of women. The exhibit will be coming to the Thomas Fisher Rare Book Library next summer.
On May 20-21, Toronto's Festival of Beer held one of its smaller Spring Sessions, with over 5000 attending and Mayor John Tory joining in for the opening. Victoria Day weekend was busy with cooking and dance demonstrations, and on Artillery Day and Doors Open (May 27 - 28) we partnered with the Department of National Defence, 7th Toronto Regiment Royal Canadian Artillery. On the Saturday of Doors Open re-enactors of the 22nd United States Infantry Regiment and students from Norwood District High School dressed in the uniforms of the 16th US Infantry animated the site and on Sunday members of the Incorporated Militia of Upper Canada and Glengarry Light Infantry re-enactment units performed similar demonstrations throughout the day.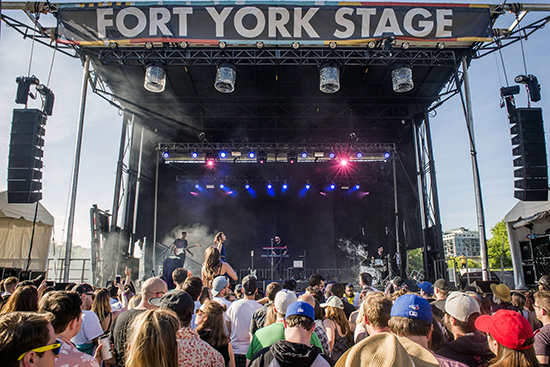 Field Trip, June 3-4, 2017On June 3 and 4 Fort York hosted the annual Arts & Crafts Field Trip for the fifth year. Although final figures aren't in, it's expected that attendance topped 12,000. Field Trip bills itself as a celebration of Toronto, of community, and above all else, of the collaborative spirit. http://fieldtriplife.com/experience/
Taste of Toronto landed on site from June 15 - 18 and we then moved into our five-day Indigenous Arts Festival which launched on National Aboriginal Day. The National Aboriginal Day programming was done in partnership with APTN and with the financial support of the Government of Canada, Public Service Alliance of Canada (PSAC), Investors Group, and TD Bank Group.
The Indigenous Arts Festival showcased performances by more than thirty indigenous artists from across Canada. It featured traditional and contemporary music, dance, theatre, storytelling, visual arts, crafts, and food. There were performances by Crystal Shawanda, Wayne Lavallee, and Nick Sherman. The Na-Me-Res Powwow returned on the Saturday as part of the festival.
A huge thank you goes out to everyone involved in making this five-day festival such a success; among others, this includes our staff team led by Kristine Williamson, our partners at APTN, the Mississaugas of the New Credit First Nation, and Na-Me-Res, as well as TD Bank, the Government of Canada, and Tim Hortons for the financial support.
On the construction front, we're still very much surrounded. Work on The Bentway continues across the frontage of Fort York (http://www.thebentway.ca/about/) while construction of Garrison Crossing, the bicycle/pedestrian bridge, goes forward on the Common. We expect most of this work will be complete by year-end so we'll be much easier to find in 2018.