Managers Report (Summer 2017)
by David O'Hara, Site Manager
After kicking off the first half of 2017 with an extremely busy calendar of events and programs, including Vimy 100 Toronto, the Indigenous Arts Festival, and much more, we moved into our lively summer season. Throughout the summer we hosted many third-party events, including the Rose Picnic, All Day I Dream of Sunshine Divine music festival, CitySTRONG, Vegan Fest, the closing gala for the World Indigenous Peoples Conference on Education and more.
Our own events included a celebration of Caribbean steel pan music featuring GTA youth steel bands and the award winning ensembles Pan Fantasy and Afropan performing outdoors on Garrison Common. Held on August 6 as a lead-up to Simcoe Day, this was presented in partnership with the Pan Arts Network and The Bentway, with funding from Canadian Heritage as part of our Canada 150 TO Canada with Love program. On Simcoe Day itself, the Guards from Fort George National Historic Site and Old Fort Erie joined the Fort York Guard in our annual event.

Although Fort York was to host the Change of Command for Canadian Army's 32 Brigade in July, the event unfortunately had to be moved indoors to the Fort York Armoury due to bad weather. Another event of note was a reception hosted earlier in the summer (June 24) at the Fort York Visitor Centre by Mayor Tory for the Toronto Consular Corps Association of Toronto. Guests enjoyed visiting Fort York and the opportunity to hear remarks from both Mayor Tory and Chief Laforme of the Mississaugas of the New Credit First Nation.

In addition to our own Canada Day programming, we were also very pleased to be able to partner with our neighbours at City Place, Concord Adex, on an event and a ten-day pop-up exhibit at their Canada Place presentation centre from June 30 to July 10. This was part of an ongoing partnership which began in 2015, when Concord Adex arranged for a buried 19th-century schooner to be lifted from lakefill and moved to Fort York. The exhibit enabled Museums and Heritage Services to display small archaeological finds related to the vessel, along with a scale model commissioned by Concord Adex and subsequently donated to Fort York. As part of the Canada Place development, Concord Adex has commissioned Canadian author and artist Douglas Coupland to complete a public art installation for the site. http://dailyhive.com/toronto/toronto-concord-canada-house-150-contest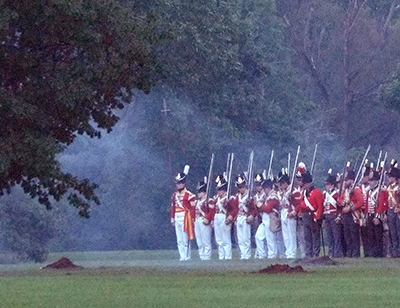 ComThe Fort York Guard participated in exercises at Fort Erie in mid-August. This picture provides evidence that 'the fog of war' is more than a figure of speech. Photo courtesy of Virginia HurleyThe Fort York Guard performed their last day of music and black powder demonstrations on August 28. The recreated Grenadier Company of the Canadian Regiment of Fencible Infantry and the Corps of Drums had both a busy and successful summer. The three major heritage presentations (Simcoe Day at Fort York NHS, The Siege of Fort Erie at Old Fort Erie, and The Soldiers' Field Day and Drums Muster Weekend at Fort George) were all great successes. The Fort York Guard also co-operated to a greater degree this season with the military animation staffs from Fort George, Fort Malden, and Fort Erie. A huge thank you to all who participated in the 'Guard Committee'—advising and working with the Guard throughout the year.
Moving into September, the OneWalk to Conquer Cancer saw over 3000 move through Fort York as part of a fundraising event for Princess Margaret Hospital. Sofar Sounds Toronto popped up at the Visitor Centre with a surprise performance by artists Torero, Luyos MC, and T. Dot Bangerz Brass. Sofar Sounds operates in 371 cities worldwide bringing small, intimate concerts to unique and unusual locales. This event was presented jointly by Fort York and The Bentway.
The highlight of our September calendar, which was also part of the City's TO Canada with Love program, was our On Common Ground Festival. Working with the Institute for Canadian Citizenship, 39 new citizens were sworn in on the afternoon of September 15 to launch a weekend full of programming. A huge thank you to the ICC's Fort York Volunteer Committee, and Nancy Fung in particular, for all of their efforts in bringing these wonderful ceremonies to Fort York.

On Common Ground also featured the world premiere of Miigis by Red Sky Performance. Melding contemporary Indigenous dance and live music, Miigis explores the catalysts, trade routes, and stories of a journey from the Atlantic Coast to the Great Lakes, and the seven prophecies marked by Miigis. The production was made possible by the federal government's Canada 150 funding and was developed on site at Fort York over the summer. It was an honour and a pleasure for us at Fort York to be able to assist in bringing this wonderful production to life—congratulations to Sandra Laronde and everyone at Red Sky Performance. http://www.redskyperformance.com/index.php/miigis/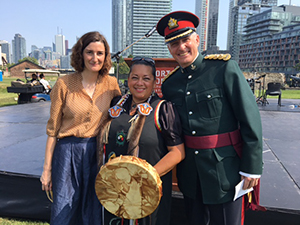 Jill Patterson (Canada 150 Project Manager, City of Toronto) and Don Cranston (Chair of the Friends of Fort York and Honorary Lieutenant Colonel of the Royal Hamilton Light Infantry) flank Kim Wheatley (Anishinaabe Cultural Consultant) at the reaffirmation ceremonies that were part of the On Common Ground Festival. Photo courtesy of David O'HaraOn Common Ground also included two citizenship reaffirmation ceremonies that were presided over by Satish Kanwar, vice president of product at Shopify, and Don Cranston, chair of The Friends of Fort York and Honorary Lieutenant Colonel of the Royal Hamilton Light Infantry. Other programming included live music performances by NEFE, Pan Fantasy, The Monkey Bunch, Tich Meredza & Ruben Esguerra, Baque de Bama, Amadou Kienou, Ritmo Flamenco, and T. DotBangerz Brass.

Congratulations to our acting supervisor of special events, Kristine Williamson, and the entire team involved in making On Common Ground such a success. As quoted in the media release by Mélanie Joly, Minister of Canadian Heritage, "Activities like the On Common Ground festival, organized as part of Canada 150 and TO Canada with Love, provide exciting activities for the whole family to engage with the rich cultural diversity that is at the heart of who we are as Canadians."

September came to a close with the Invictus Games; details can be found in the lead article by Bruce Kidd in this same issue. We're also hoping everyone comes down to see the "Vimy Foundation's First World War in Colour" (www.vimyfoundation.ca), a unique and innovative project colourizing 150 images from the First World War. The exhibit will be on display in the Visitor Centre until the end of October.

On the construction front, an update on The Bentway is located on page 10, and information on Garrison Crossing is available at http://fortyorkbridge.mmm.ca/updates/August 2017 Garrison Crossing Update.html