Ancient Human-Powered Transportation Coming to The Bentway
by Kasia Gladki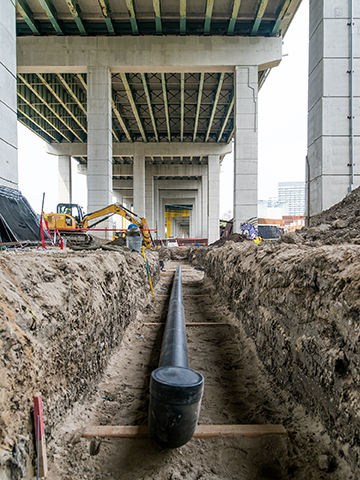 Currently pipes for making ice are being installed to create a skating trail for The Bentway under the Gardiner and in front of the Fort York Visitor Centre. Credit: Sean GalbraithIf you've been to the fort recently, you will have seen perimeter fencing, trailers, cement pourers, and other construction machinery. This is the foundation of what will become The Bentway and is the work of The Bentway's construction manager, Peter Keiwit Sons ULC—who are on site every weekday, with over 130 skilled labourers and more than 50 subcontractors, turning our vision into a reality.
There are many things happening on the site each and every day. Substantial excavation work has already taken place and more than 1420 metres of utility piping has been installed, which is the equivalent of ten football fields. Above and below ground electrical conduits are in place that will power lighting fixtures throughout the site. The roof deck of the Gardiner has actually helped to keep things on track, offering a shelter from the wet weather.
With winter skate season coming up, we are especially excited to see the fantastic progress on the skate trail and icehouse. Ice skating has been called the oldest human-powered means of transportation; skate artefacts have been found in Scandinavia and Russia going back 5000 years. Our skating trail is a bit more modern than that. The 220-metre skating trail uses a refrigeration system: 13,746 metres of embedded piping, which is connected to the refrigeration system in the skating shed, carries coolant throughout the trail. When activated the coolant travels through the pipes to take the heat from the surface and distribute it to the refrigeration equipment. This means that ice production is less weather-dependant and visitors will be able to enjoy the trail throughout the winter. The foundation and walls of the icehouse are underway and surface concrete for the trail is being poured right now. If all goes well, we'll be skating this December!
For more construction updates and to learn about upcoming events and opportunities please sign up for our email newsletter. You can visit our website at http://www.thebentway.ca/get-involved/#join-us or send an email to This email address is being protected from spambots. You need JavaScript enabled to view it. to subscribe.
Kasia Gladki is manager of communications, The Bentway Conservancy.