Managers Report (Fall 2017)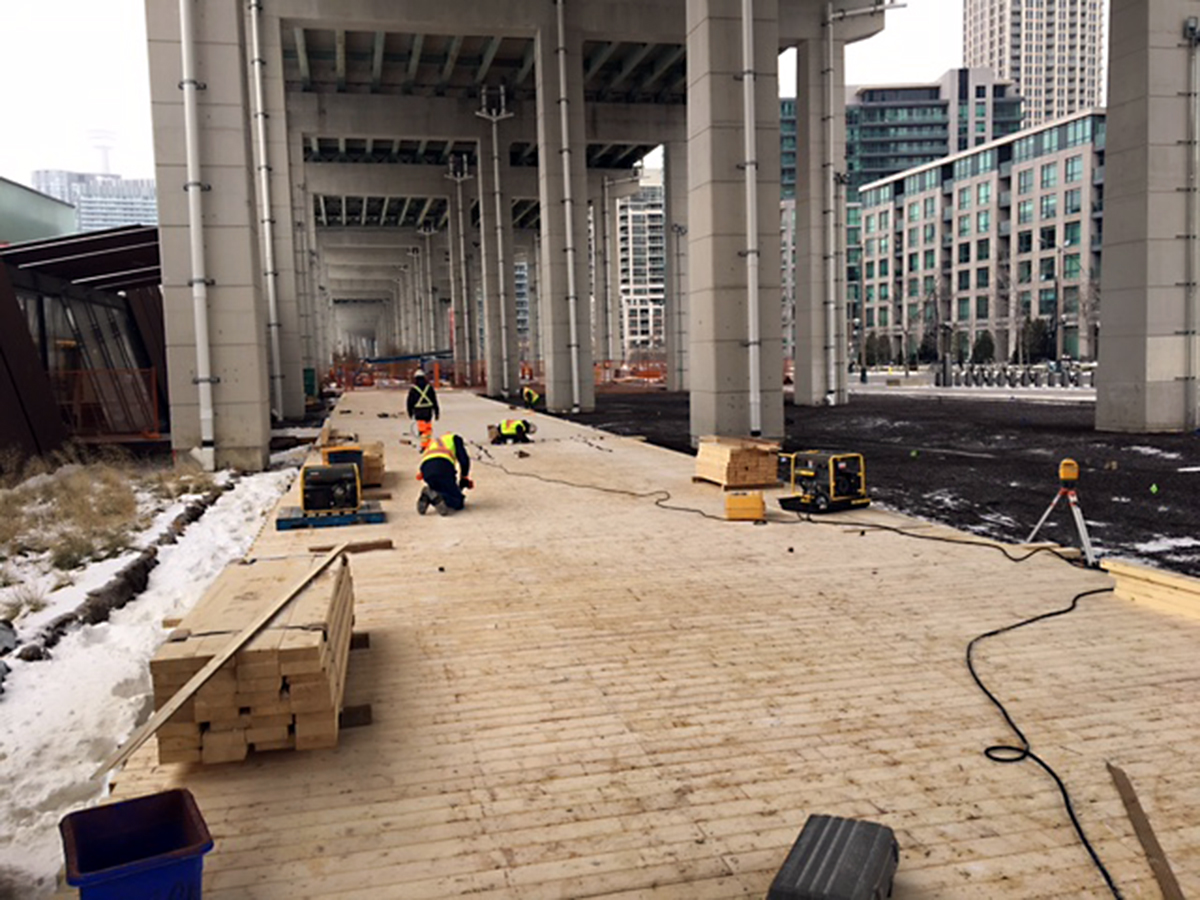 The Fort York Foundation has raised the funds which, combined with a federal government grant, has allowed Fort York National Historic Site to proceed with construction of the long-awaited Wharf (formerly known as the Events Dock) in front of the Visitor Centre. The Wharf is Fort York's new outdoor programming venue. It practically doubles the Visitor Centre's capacity for events in the warmer months and we can expect that it will be jointly programmed by Fort York and The Bentway. Credit: David O'Hara
by David O'Hara, Site Manager
2017 certainly proved to be the busy year we expected, with a wider and more diverse range of programs and events on-site at Fort York than ever. We moved from Queen Charlotte's Birthday Ball in January through to the Frost Fair and our holiday season baking workshops in December—with Vimy 100, the Indigenous Arts Festival, Simcoe Day, On Common Ground, and much more in the months between.
Following our active summer season we were honoured to be able to host the archery competition as part of the Invictus Games http://www.invictusgames2017.com and the annual Sick Kids Great Adventure Camp walk http://web.sickkidsfoundation.com/walkforsickkids
Our After Dark Lantern Tours in October were very popular, selling out on all but one of the nights. On November 7 we hosted the Vimy Foundation's launch of their exhibit The Great War in Colour. The event featured the premier of a short film by the National Film Board, with remarks by actor Paul Gross. Others in attendance included Lieutenant-Governor Elizabeth Dowdeswell. https://www.nfb.ca/film/return-to-vimy
Around the same time we opened a temporary mapping exhibit titled Canada before Confederation, produced by Dr. Lauren Beck of Mount Allison University. The exhibit, which includes a Toronto-specific component developed by Collections and Curatorial staff, will be on display until the end of April 2018.
Over 1100 persons attended our annual Remembrance Day ceremony, which marked significant anniversaries of Vimy Ridge, Passchendaele, and the Battle of Hill 70 as well as the 75th anniversary of the Dieppe Raid in the Second World War. Those placing wreaths as part of the service included MPP Han Dong, IODE representatives, TDSB and TCDSB trustees, and more. http://www.metronews.ca/news/toronto/2017/11/12/hundreds-gather-in-toronto-for-remembrance-day-service.html
In the fall we undertook work with an organization called CyArk to develop a photorealistic 3D model of Fort York. CyArk's work, which was funded by Iron Mountain, a records management and storage company, included an aerial survey, terrestrial laser scanning, and photogrammetry of the fort's grounds and buildings. The data products will be used to monitor site conditions, inform archaeological master planning, and support interpretive activities. We would like to thank both CyArk and Iron Mountain for their interest in ensuring Fort York National Historic Site is preserved for generations to come. http://www.cyark.org/news/iron-mountain-and-cyark-join-forces-to-digitally-preserve-fort-york-for-generations-to-come
As a staffing update, we're pleased to announce that Kristine Williamson is now our permanent supervisor of special events. Kristine, who had been acting in the position for the last year, is a museum professional with over ten years experience creating diverse and engaging cultural programming. She has a BA in Canadian History, a Master's in Public History, and has worked with a variety of organizations and museums across Toronto, including Mackenzie House, the Design Exchange, Lord Cultural Resources, and the Toronto Society of Architects.
Our staff continue to work closely with The Bentway Conservancy to get ready for a busier than normal winter season here at Fort York. The first section of The Bentway to be developed, The Bentway Skate Trail, will officially open to the public on Saturday, 6 January 2018 with the Mayor's Skate Party on Sunday, January 7.
As the entire first phase of The Bentway forms part of the National Historic Site, we're excited to be partnering with this new creative team to bring more people down to experience both The Bentway and Fort York. For more information, see the article by Kasia Gladki in this same issue or visit www.thebentway.ca