Stephen Otto and Fort York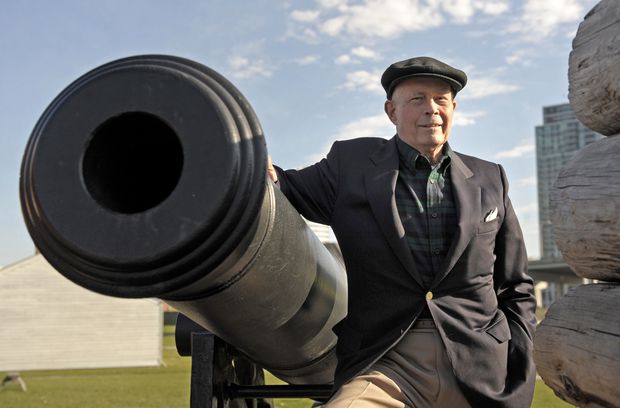 Stephen Otto is photographed at Fort York in Toronto in 2009. Fred Lum/The Globe and Mailby Andrew Stewart

On 22 April, we lost one of our best friends. Stephen Anderson Otto was mentor and colleague to many people, not only the dedicated people who have worked over the past 25 years to re-connect and enhance Fort York's public spaces with the City from which it was cut off more than a century ago, but also built heritage historians, biographers, architects, archaeologists, planners and thoughtful urbanists across the country. He was one of Canada's foremost and skillful advocates for the public realm. He was inspiration for younger generations of city-builders (in the best sense of that over-used word): people actively engaged in place-making, activists who draw on a place's history and architecture to improve the public realm.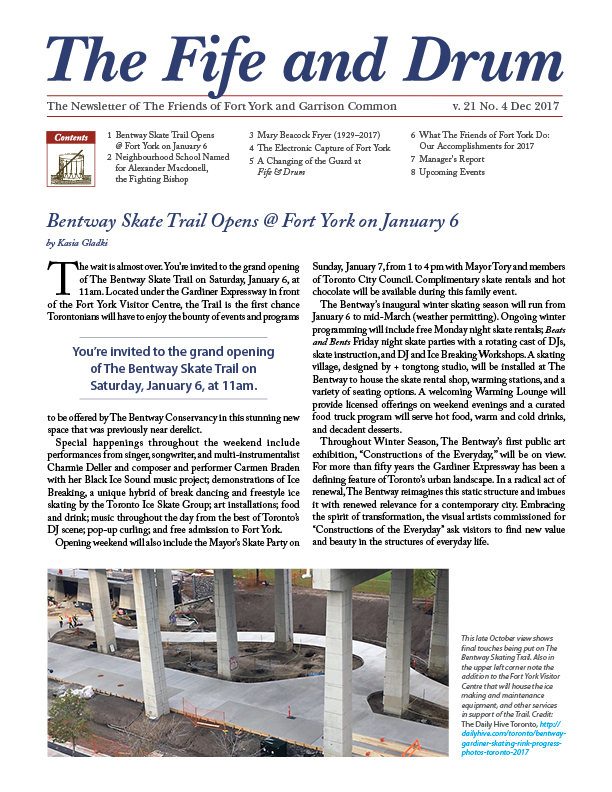 Steve Otto was managing editor of The Fife and Drum since its inception until Dec. 2017.
John Lorinc and Alex Bozikovic – two of Toronto's most thoughtful urbanists and journalists – have written a superb obituary of Steve for The Globe and Mail. Eight years ago, Chris Hume also wrote about Steve in The Toronto Star – the "Quiet Canadian" who knew how things worked and how history contributed to better planning and growth.
In April 1994, Steve was spokesman for an ad hoc group of citizens, which included Rollo Myers, Cathy Nasmith and Bob Allsopp, later incorporated as The Friends of Fort York and Garrison Common, commenting on and changing the course of short-sighted decisions then being made by City Council's Land Use Committee affecting the Fort's precinct. From the beginning, a major focus of The Friends was on enlarging Fort York National Historic Site and consolidating the layers of protection it now enjoys under legislation at all levels. It achieved its current size of 43 acres in 2003. Along the way, Steve and The Friends forged strong relationships with City Council and City staff. He became founding editor of The Fife and Drum, which has grown in 20+ years from newsletter to quarterly journal, run entirely by volunteers, conveying news about Fort York, past and present, to thousands.
The Friends of Fort York influenced precinct planning in such a way that the Fort and its 43 acres of protected green space became recognized by most as an asset, rather than a hindrance, to neighbourhood development. The view that it could be a central park with green connections into the surrounding city was championed by Steve and given form by DTAH in its Fort York Parks and Open Space Network. Today's Precinct Advisory Committee of The Friends, working closely with neighbours and various City and Provincial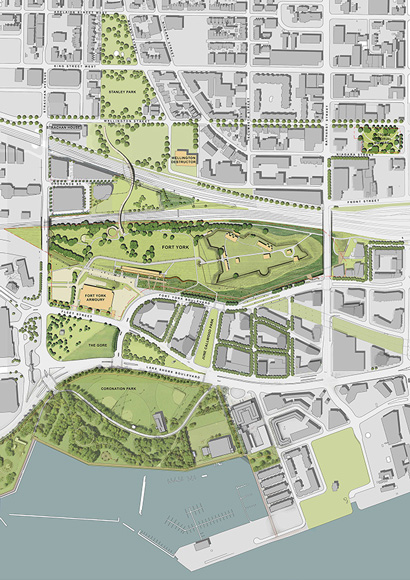 Fort York Parks and Open Space Network by DTAH for Friends of Fort York, 2014.agencies (most recently, Metrolinx), perpetuates this vital work. As developments and infrastructure are proposed, and as development lands change hands and short-term plans are discarded, The Friends consistently preserve a longer-term vision of Fort York-centred planning. This vision is based on the site's existing open space, which has persisted since its founding as a military site 225 years ago.
From the perspective of early 1994 – before The Friends came together – a more likely scenario entailed Fort York becoming further isolated, perhaps reduced to a 7-acre rump (a walled fort, with none of its adjacent open space, and without much connection to Garrison Common or the Armoury). The Fort was facing diminishment, being forgotten within a land-rush of development approved by an unsympathetic City Council. The Friends, led by Steve, with an eye to a better future, changed all this, first with an OMB challenge and then with negotiations and relationship-building with staff and councillors. (The achievements of The Friends on their 20th anniversary are told in The Fife and Drum 18(1) March 2014.)
Steve was also instrumental in establishing the Fort York Foundation (2006), to which he contributed generously, with the intent of setting an example for others to follow. He devoted much time and effort as a volunteer raising capital funds for Fort York. These efforts helped realize our beautifully designed Fort York Visitor Centre, which opened in 2014. The Foundation's Acquisitions and Conservation Fund was established by Steve in 2014 with initial donations to it from him. The Fund helps Fort York tell its remarkable story by strengthening staff's ability to acquire historically important objects. We are now re-naming this fund in his honour: the Stephen Anderson Otto Fort York Fund. He expressed the hope that, in future, this fund would continue to be supported by people who cared about the Fort.
A famously generous host and faithful and attentive friend to many, Steve was a highly accomplished, graceful man with a deep intelligence that inspired people from diverse backgrounds and generations across this city's public and private life to work and build common ground. We will miss him.