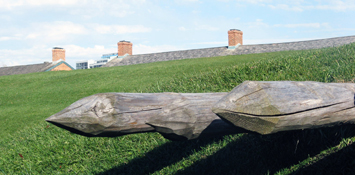 Newsletters
Welcome to The Fife and Drum: The Newsletter of The Friends of Fort York and Garrison Common
Now delivered electronically to more than 3000 readers our quarterly newsletter was first published in 1996 for members of The Friends, a group formed in 1994. The Fife and Drum expanded in 2004 when Birthplace of Toronto, a newsletter written by Fort York staff, joined as a separate section.
In each number you will follow news of the fort: maintenance and enhancement of the National Historic Site, celebrations and special events, school visits, historic gardening and cooking, donations of unique artefacts, expanding research collections, and the activities of the young men and women who serve in the Fort York Guard. A calendar of Coming Events alerts you to the next quarter's walks and talks, performances, and opportunities to participate. Readers can expect discerning book reviews, recipes tested in the fort's kitchen, and invitations to authentic period dinners enjoyed in the barracks.
Since Fort York is at the heart of one of the most dynamic areas of our city, staff and Friends monitor and report on potential and ongoing development. Equally attentive to the fort's legacy as Toronto's birthplace each issue features at least one article based on original historical research or archaeological fieldwork.
The Fife and Drum editorial team welcomes a wide audience and encourages new writers to send proposals for articles of up to 800 words on topics central to Fort York. For further information contact us at This email address is being protected from spambots. You need JavaScript enabled to view it.
Sign up to have the The Fife and Drum delivered right to your inbox and catch up on earlier newsletters by accessing our archive below.

The Fife and Drum is published in PDF format which requires Adobe Acrobat to read.
If you do not have a copy of Acrobat, simply click on the Adobe image to download Acrobat Reader.


The Fife and Drum Archive