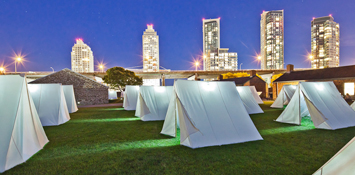 The Toronto Rosé Picnic - Ticketed event
Sat. July 22
The Inaugural Rosé Picnic on Garrison Common will include a celebration of life, fine wine, outstanding food, and great music.
New Generation Steel Band Festival (2017) - Free admission
Sun. August 6
A celebration of Caribbean steel pan music featuring GTA youth steel bands and the award winning ensembles Pan Fantasy and Afropan performing outdoors on the grounds of Fort York. Great Caribbean food, all ages pan workshops, and plenty of opportunities for audience participation―dance, dance, dance! Come celebrate Toronto's vibrant Caribbean community and support youth engagement with this proud tradition. Presented in partnership by Fork York and Pan Arts Network.
Simcoe Day at Fort York (2017) - Free admission
Mon. August 7, 10 am to 5 pm
Fort York comes to life in honour of the first Lieutenant-Governor of the Province of Upper Canada (1793-96) and founder of Fort York and the Town of York, John Graves Simcoe. Walk the historic grounds and thrill to musketry, artillery, and music demonstrations presented by the Fort York Guard and Guards from Fort George National Historic Park from Niagara-on-the-Lake and Old Fort Erie. Visit the working kitchen in the 1815 Officers' Brick Barracks, take tours of the fort's buildings and grounds, and discover the dynamic lives of the fort's men, women, and children. The Fort York Visitor Centre will be open and free all day and will feature new, curated exhibitions alongside permanent installations and films on the Battle of York and the War of 1812.
VeganFest (2017) - Ticketed event
Sat. August 19
Entering its third festival season, VeganFest brings vegan comfort food and craft brews back to Chicago and Toronto for another round.