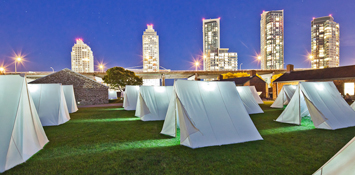 Fort York After Dark: Lantern Tours (2018)
October 23, 24, 25, 26, 27 – 7:30 pm to 9:30 pm
Ticketed Event

Hear chilling tales on a lantern tour of Fort York and its spooky historic surroundings. Learn about the haunted lighthouse, the bloody Battle of York and even more eerie history as we explore nearby military burial grounds. This is not recommended for children under 8 years of age (it's that good). Complimentary refreshments included.

Advance tickets $13.27 + tax are required.
See http://fortyork.streamintickets.com
Remembrance Day (2018)
Strachan Avenue Military Cemetery (west end of Garrison Common)
Sunday, November 11, 10:45 am

Fort York National Historic Site and the IODE (Imperial Order Daughters of the Empire) are proud to present one of the city's most evocative Remembrance Day services. Commencing at 10:45 from the west gate of Fort York, a procession led by period uniformed military staff and standard bearers of the IODE will make its way to the Strachan Avenue Military Cemetery, where the public is gathered. There, at the eleventh hour, all soldiers of the Toronto Garrison who fell in the War of 1812 and all of Canada's wars since will be remembered and honoured.

Admission is free.
Frost Fair (2018)
Saturday, December 1, 10 am to 5 pm

Have some holiday fun with the whole family at historic Fort York. Shop for unique gifts made by local artisans, including jewellery, heritage-inspired reproductions and holiday greenery. Enjoy military and musical demonstrations alongside children's drill sessions, games, crafts and dress-up. Print your own Frost Fair souvenir on a Mackenzie House press. Visit our Volunteer Historic Cooks to sample period recipes and stop by the Heritage Café for lunch.

Admission is free.
The Cook's Apprentice (2018)
Saturday, December 8, 1 pm to 3:30 pm – Ticketed Event

Kids aged 8 to 12 learn to bake traditional cakes, biscuits and confections in the historic kitchen of the officers' mess. Recipes include iced Queen Cakes, Gingerbread, Peppermint Drops and a delicious breakfast griddle cake for the holidays. There will be a recipe package and samples to take home.

Advance tickets $30 + tax required.
See http://fortyork.streamintickets.com
Fort York remains open; regular admission applies.