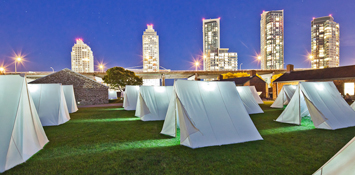 Further Event Information & Latest Updates
For further information and last minute event updates, please check toronto.ca

Summer at Fort York (2019)
July and August, every day, 10 am to 5 pm
The Fort York Summer Guard have taken up their posts. Visitors will enjoy hourly demonstrations of military music, drill, musketry and artillery, all performed by students in uniforms of the Canadian Regiment of Fencible Infantry. These were the soldiers who garrisoned the fort at the end of the War of 1812. Highlights throughout the day include cannon firing, the concerts of the fifes and drums – and seeing what's cooking in the regiment's original, stone-hearth kitchen. Program varies daily, so please call for details.
Regular admission (tax included): Adults $14, Seniors $10, Youth $8 (13-18), Children $6 (6-12), Toddlers (5 and under) free.
After the War (Temporary Exhibition)
August 15 to September 2, 10 am to 5 pm
September 3 to 30, Weekdays 10 am to 4 pm, Weekends 10 am to 5 pm
The Canadian Centre for the Great War's new travelling exhibition After the War: Coming Home and Fitting in at the End of the Great War looks at the efforts made by Canadian society to support over 600,000 former members of the armed forces as they met the challenges of reintegrating into a society that, in many ways, only resembled the one they had left in 1914.
From Pollinators to Produce: Exploring a Heritage Kitchen Garden
Sunday, August 18 Tours at 11 am, 1 pm and 3 pm

This walking tour of Fort York's historic kitchen garden includes a honey-tasting from the beehives operated at the fort by Toronto Honeys. Along the way, you will learn about some of the changes to the natural environment of the fort – changes to Toronto's founding landscape – from 1812 to the present.
FREE with regular admission.