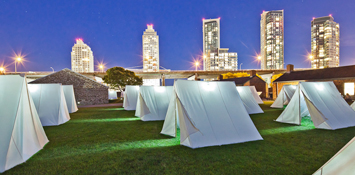 March Break Family Drop-in at Fort York
March 13 to 17, 10 am to 4 pm
Looking for a day of adventure during March Break? Just bring your family down to Fort York National Historic Site! At this authentic War of 1812 fort, children will have fun trying soldiers' drill classes, officers' sword drill, music workshops and dressing up in costumes. Visitors can sample treats from the 1826 historic kitchen. Learn about the Fort's exciting history through colorful exhibits including the new Visitor Centre and Battle of York Experience. Pick up a Kids' Guide to Fort York and have fun finding the clues to complete its games and puzzles throughout their tour. No registration required.
Regular admission.
Vimy 100 Toronto, TO Canada with Love Event
Sat. April 8 and Sun. April 9, 10 am to 5 pm
Fort York National Historic Site pays tribute to the men and women who fought for Vimy Ridge on 9 April 1917 with a remembrance ceremony and Great War exhibits. On Saturday experience the sights and sounds of First World War Canadian soldiering through fascinating re-enactor displays of infantry, artillery, cavalry, medicine, music, and food. On Sunday at 2 pm attend a remembrance parade by the Canadian Armed Forces which includes the dedication of a Vimy oak tree.
This event is presented as part of TO Canada with Love, the City of Toronto's year-long program of celebrations, commemorations, and exhibitions honouring Canada's 150th birthday.
Free admission.
Battle of York Weekend at Fort York (2017)
Sat. April 22 and Sun. April 23, 10 am to 5 pm
Spend some time with actual survivors of the Battle of York.
Now on display in the special collections Vault at Fort York's new Visitor Centre are the original Regimental Colours of the 3rd Regiment of York Militia who fought gallantly against American invaders at the Battle of York on 27 April 1813. Produced by the young women of York during the War of 1812, the colours were secreted away to keep them from being seized as a war trophy by American troops. Donated to the City of Toronto in 2009, they have not been on public view for many years but now, after laborious conservation work, they return to the post as a testament to what historians have called Toronto's most traumatic day―the attack and occupation of the Town of York.
Regular Admission
Sun. April 23, 10 am to 5 pm
Honour the 204th anniversary of the Battle of York fought on 27 April 1813. The fort comes alive with musket firing demonstrations, Georgian cooking in the Officers' Quarters kitchen, site tours, and period animation. Kids can try soldiering drill.
Battle of York Walking Tours
Sun. April 23, 11 am and 2 pm
In addition to scheduled demonstrations and activities there will be a special walking tour focusing on the Battle of York. Beginning at the canteen/museum store, the tour uses Garrison Common and areas of the original shoreline to highlight the dramatic battle that took place here 204 years ago.
Victoria Day @ Fort York (2017)
Mon. May 22, 10 am to 5 pm
What better way to celebrate Victoria Day than to visit the birthplace of Toronto?
Take tours, see demonstrations of Georgian-era cooking techniques in one of the oldest kitchens in Toronto, as well as English country dancing. The kids will enjoy activities such as soldiers' drill.
Regular admission.