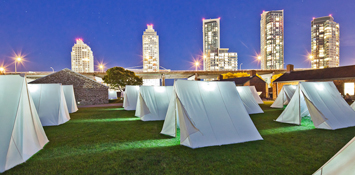 Summer at Fort York (2018)
Daily throughout July and August, 10 am to 5 pm
Thrill to the booming cannon, the firing muskets, the vibrant colours of the uniformed guard and the lively music of the Fort York Drums, a fife & drum corps, all summer long. Visitors will enjoy hourly demonstrations of military music, drill, musketry and artillery performed by students representing the Canadian Regiment of Fencible Infantry, the unit that garrisoned the fort at the end of the War of 1812.
The program varies daily, so please call (416) 392-6907 for the details.
Regular admission applies.
Toronto Summer Music Festival: Canadian National Brass Project
The Bentway Skate Trail and Fort York
Sunday, July 29, 2 pm to 5 pm
Free Admission
Join Toronto Summer Music Festival for a full afternoon of events with a feature performance by the Canadian National Brass Project at The Bentway Skate Trail. The project includes the best brass players in Canada who join forces each summer from orchestras across North America. Concert goers will also be treated to military music by the Fort York Drums (a fife & drum corps) and given complimentary admission to Fort York after the concert for an artillery demonstration by the Fort York Guard. The Canadian National Brass Project is part of the Toronto Summer Music Festival's Reflections of Wartime running July 12 to August 4. www.torontosummermusic.com
The National
Saturday, August 4, Gates at 2:30 pm
Fort York Garrison Common
Ticketed Event
Collective Concerts presents The National with Father John Misty, Jenny Lewis, Julien Baker and Dan Edmonds. This event is all ages. Children 10 and under (maximum two) are free when accompanied by an adult. http://ntl.collectiveconcerts.com
Please note: This is a third-party event. Fort York will be open to the general public from 10 am to 5 pm. Regular admission applies.
Simcoe Day (2018)
Monday, August 6, 10 am to 5 pm
Free Admission
Fort York comes to life in honour of the first Lieutenant-Governor of the Province of Upper Canada (1793-96) and founder of Fort York and the Town of York – John Graves Simcoe. Walk the historic grounds and thrill to demonstrations of musketry and artillery. There will be music by the Fort York Guard and as well as the Guards from Fort George at Niagara-on-the-Lake and Old Fort Erie. Visit the working kitchen in the 1815 Officers' Brick Barracks, take tours of the fort's buildings and grounds and discover the dynamic lives of the fort's men, women and children at the beginning of the 1800s.