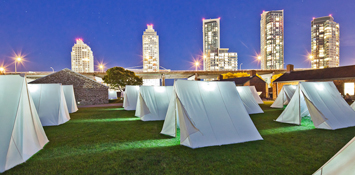 Further Event Information & Latest Updates
For further information and last minute event updates, please check toronto.ca

Fort York After Dark: Lantern Tours
October 28 to 31, 7:30 pm to 9:30 pm
Hear chilling and eerie tales on a lantern tour of Fort York and its historic surroundings. Learn about a haunted lighthouse and the bloody Battle of York. Explore the military burial ground. Tour the creepy shadows and 200-year-old buildings of Fort York at night and learn of the fort's history and its many paranormal mysteries. (This event is part of Toronto History Museums' Halloween programming.) The cost is $13.27 plus HST.
Advance tickets required; get them here. https://fortyork.streamintickets.com
In Flanders Fields: A Multicultural Poetry Event
Saturday, November 9, 5 pm to 8 pm
Poets and readers will present "In Flanders Fields" in a multitude of languages. The event is hosted by the EtCetera – Arts and Science Club and will include food and live music. The translations of John McCrae's iconic poem of remembrance and urging can be found on the EtCetera website here. https://www.clubetcetera.ca/in-flanders-fields.
FREE
Remembrance Day Service
Monday, November 11, 10:45 am

Fort York National Historic Site and the Toronto Municipal Chapter IODE are proud to present one of the city's most evocative Remembrance Day services. It unfolds at the Strachan Avenue Military Burial Ground on Garrison Common. At 10:45 from the west gate of the fort, a procession led by period-uniformed staff and standard bearers of the Imperial Order Daughters of the Empire will make its way to the old cemetery (at the west end of the Common) where the public will gather. There, at the eleventh hour, all soldiers of the Toronto Garrison who fell in the defence of Canada, here and around the world, from 1812 to the present, will be remembered and honoured.
FREE