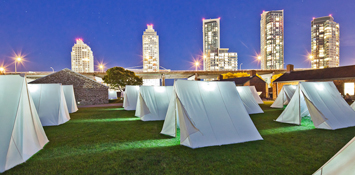 Family Day at Fort York. Free Admission
Mon. February 19, 11 am to 6 pm
Explore the history of Toronto and Fort York. Visit the Fort's historic kitchen and sample baking from the hearth. Hot chocolate and a roaring fire will make this visit memorable. Kids can try an 1812 drill class, officers' sword drill, and old-fashioned games, as well as a fun-filled activity book.
Fort York Visitor Centre
Check out the Visitor Centre for takeaway crafts, a special pop-up exhibit on winter fun in Toronto, and a Fort York selfie booth.
Hungry for Comfort: A Celebration of Food History
Sat. February 24, 8:30 am to 3:30 pm
Come together with fellow food enthusiasts to explore how different peoples survived and thrived in Canada's bitter winter. This year, the spotlight is on the culinary stories of the First Nations, Metis, French and English, with speakers, demonstrations, workshops and tastings. On the day's line-up is the annual baking competition, this year it's all about Apple Pie. The preserving competition again features marmalade in two categories, classic Seville, and other citrus fruit. New this year, is the Apple Chutney category.
Pre-registration required. Ticket price includes refreshments and lunch.
Early bird tickets $65 plus tax (until February 9), $75 plus tax afterwards.
Tickets available online at https://fortyork.streamintickets.com

March Break Family Drop-in at Fort York
Looking for a day of adventure during March Break? Just bring your family down to Fort York National Historic Site. At this authentic War of 1812 fort, children will have fun trying soldiers' drill classes, officers' sword drill, music workshops, and dressing up in costumes. Visitors can sample treats from the 1826 historic kitchen. Learn about the Fort's exciting history through colourful exhibits including the Visitor Centre and Battle of York Experience. Pick up a Kids' Guide to Fort York and have fun finding the clues to complete its games and puzzles throughout their tour.
No registration required.
Regular admission.