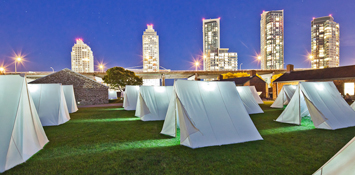 Canada's Table: A Celebration of Cookbooks
Saturday, October 13, 7:30 am to 5:00 pm
Ticketed Event
Celebrate the history and influence cookbooks and great Canadian authors past and present with a full day of panels, demos and workshops. Keynote speaker is Bonnie Stern; guest speakers include Mairlyn Smith and Anna Olson; workshops by David Wolfman, Claire Tansey, Tara O'Brady, Matt Basile, Afrim Pristine, Pat Crocker, Emily Richards and Elizabeth Baird.
Presented by Fort York NHS.
Advance tickets $125 + tax are required.
See https://fortyork.streamintickets.com/purchaseProductSP.aro?sum=Canadas+Table
Toronto Soup Festival
Garrison Common
Saturday, Oct 20, 12:00 pm to 8:00 pm
Sunday, Oct 21, 12:00 pm to 6:00 pm
Ticketed Event

A two-day outdoor festival serving up the best soups in the city, all in support of Second Harvest. This inaugural food festival will feature local restaurants and artisans who will be selling their custom creations or tried-and-tested trues. You'll be able to vote for your favourite soup to crown the People's Choice. Bring the family down to sip and savour sample-sized helpings and enjoy myriad flavours from around the world. You'll also find music and an autumn campfire. #SoupFestivalTO www.soupfestival.ca

Please note: This is a third-party event. Fort York will be open from 10 am to 5 pm; regular admission applies.
Fort York After Dark: Lantern Tours (2018)
October 23, 24, 25, 26, 27 – 7:30 pm to 9:30 pm
Ticketed Event

Hear chilling tales on a lantern tour of Fort York and its spooky historic surroundings. Learn about the haunted lighthouse, the bloody Battle of York and even more eerie history as we explore nearby military burial grounds. This is not recommended for children under 8 years of age (it's that good). Complimentary refreshments included.

Advance tickets $13.27 + tax are required.
See http://fortyork.streamintickets.com
Remembrance Day (2018)
Strachan Avenue Military Cemetery (west end of Garrison Common)
Sunday, November 11, 10:45 am

Fort York National Historic Site and the IODE (Imperial Order Daughters of the Empire) are proud to present one of the city's most evocative Remembrance Day services. Commencing at 10:45 from the west gate of Fort York, a procession led by period uniformed military staff and standard bearers of the IODE will make its way to the Strachan Avenue Military Cemetery, where the public is gathered. There, at the eleventh hour, all soldiers of the Toronto Garrison who fell in the War of 1812 and all of Canada's wars since will be remembered and honoured.

Admission is free.