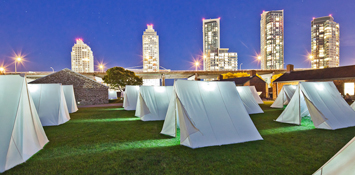 National Indigenous Peoples Day and Indigenous Arts Festival (2018)
Thursday, June 21 to Sunday, June 24, times and admissions vary
Presented by Fort York and the Mississaugas of the New Credit First Nation, National Indigenous Peoples Day followed by the Indigenous Arts Festival will celebrate Indigenous and Métis culture. Plan to spend the days under open skies in downtown Toronto enjoying traditional and contemporary music, educational programming, storytelling, dance, theatre and food. This series of events will energize the grounds of the National Historic Site with compelling creations by Indigenous and Métis artists.
Na-Me-Res Annual Traditional Pow Wow (2018)
Saturday, June 23, 12 pm to 4 pm
Free Admission
The Native Men's Residence (Na-Me-Res) Annual Traditional Pow Wow is held to recognize National Indigenous Peoples Day on the Summer Solstice. The event features a sunrise ceremony, a Grand Entry at 12:00 pm, traditional dancing, drumming, craft vendors, and a community feast to end the day.
Indigenous Day Live with APTN (2018)
Saturday, June 23
Preshow 5:30 pm to 7 pm
Main Stage 7 pm to 10 pm
Free Admission
The Aboriginal People's Television Network's (APTN) Indigenous Day Live has been delighting audiences since 2007. This event will feature some of the biggest names in Indigenous music and television, including JUNO Award winners and on-the-rise artists. Indigenous Day Live will showcase talent from all genres, regions and nations, ensuring the recognition and inclusion of all First Nations, Inuit and Métis Peoples.
http://aboriginaldaylive.ca/