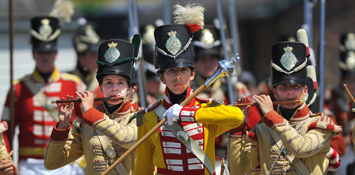 About The Friends of Fort York
The Friends of Fort York and Garrison Common is a not-for-profit organization supported by donations, grants and generous volunteers. We exist primarily to support Fort York National Historic Site and advocate its best interests, but are committed to the well-being of our neighbourhood too.

We came together in 1994 to protest proposals to lay out the former rail yards south of Fort York into city blocks and streets. Our chief objection was the close proximity of the ramparts to a major road proposed to join Bathurst with Fleet Street. After we made strong representations to City Council that were backed by editorials in major newspapers, the draft official plan was re-opened. Meanwhile, Bob Allsopp, a landscape architect and early member of The Friends, helped draw up a new plan adopted by Council that defined what became Fort York Boulevard and added several acres of open space to the fort's precinct.

In the beginning The Friends was an informal group of up to two dozen people. As the immediate crisis over the alignment of the roadway passed, however, our organization wanted to avoid fading away as had been the fate of our predecessors in defending Fort York. Incorporation was seen as a step to achieving continuity. Our charter under the Canada Corporations Act was issued on May 29, 1995. Next, our registration as a charitable organization under the Income Tax Act was granted effective Jan. 1, 1998. Later, when our goals were enlarged to include raising money for a Visitors' Centre and other longer-term purposes, the Fort York Foundation/La Fondation Fort York was incorporated with its own board, officers and charitable status.

The articles of The Friends of Fort York authorize a board of up to twenty-five directors, who also constitute the corporation's membership. We invite support for our cause by inviting anyone to become a 'Friend.' With friendship comes benefits ranging from free entry to the fort, to a discount on items purchased at the gift shop, and The Fife and Drum, our quarterly newsletter, in print now for more than 20 years. Joining The Friends is as easy as completing and submitting an application form or joining us online.
What We Do
While defending the integrity of the site has always been our first priority, support for programming has come next. Convinced of the need to rebuild an active military presence at the fort, which had been a casualty of budget cuts in the early 1990s, we took over responsibility for the Fort York Guard from the City in 1999, and founded the Fife and Drum Corps the following year. Not only do we recruit, train and outfit annually the 20 to 25 young men and women who make up these squads, but we also cover their wages through our own funds and fundraising and grants that we secure. We help raise funds for Fort York's Indigenous Arts Festival each year and have supported other initiatives, such as expert study of the schooner that was excavated near Fort York and came into the City's possession in 2015, resulting in the completion of an MSc thesis on its construction by Texas A&M University student Julia Herbst in 2019.

Land-planning and development continue to be strong interests. We prepared and published Fort York: Setting It Right, and Fort York: Adding New Buildings. We have also taken positions such as advocating safe, open connections under the Bathurst Street bridge when it is rebuilt, and supporting strongly the City's position in urging Metrolinx to lower the Georgetown rail corridor at Strachan Avenue so the bridge to be constructed there doesn't disrupt the street-grid in the Niagara Neighbourhood. We successfully opposed plans to elevate the Front Street extension on columns, like the Gardiner, which were moot when the project was cancelled. In addition to our quarterly, The Fife and Drum, we published Fort York: Stories from the Birthplace of Toronto, edited by Adrian Gamble (2018). We supported publication of Fort York: a Short History and Guide (2008) as well as two cook books by the Volunteer Historic Cooks at Fort York: Setting a Fine Table: Historic Desserts and Drinks from the Officers' Kitchens at Fort York (2013) and Recipes for Victory: Great War Food from the Front and Kitchens Back Home in Canada (2018), both published by Whitecap.

We are active in protecting and enhancing Fort York through ongoing lobbying efforts with all levels of government. For example, in association with the fort staff we had Canada's National Historic Sites Board confirm new boundaries for the site. We also support the efforts of the staff through exhibits, programs, live interpreters, and historic settings to encourage a new level of understanding about the War of 1812 era and Fort York's role in the development of modern-day Toronto.