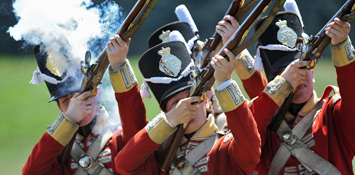 Donate To The Friends
We would be pleased to have you as a supporter of The Friends of Fort York. The Friends are one of the largest heritage organizations in Toronto. Ensure that the efforts of The Friends translates into dynamically designed exhibits, continued support of The Fort York Guard - Fife and Drums and Squad, exciting programming and improved facilities that bring new life to Fort York.
The Friends of Fort York is a non-profit educational organization which has the responsibility for both the funding and operation of The Fort York Guard, including the Fort York Drums and the Squad. The Squad and the Drums provide an opportunity for students from age 11 up to the university level to live their history at Fort York. Your Friendship is also crucial to the support future reconstruction plans, exhibits, educational programs, publications and research.
With your help, Fork York's outstanding exhibits and innovative programs will continue to educate, enrich and enlighten our visitors for years to come. A Fort York Friendship allows you to enjoy a fascinating glimpse into Canada's early past—year round!
Thank you for your support.