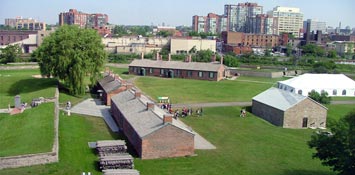 Fort York Foundation

The Fort York Foundation, an independent, federally registered charity, is helping City of Toronto Culture revitalize Fort York National Historic Site. The foundation raises funds from the private sector to support capital projects like the Fort York Visitor Centre, which opened in 2014.

Although now open, the Fort York Visitor Centre still needs your support. We have so far raised over $2.3 million from the private sector for this building. The foundation needs to raise another $4 million to install exhibits and build some of the components of the Visitor Centre that were part of the winning architectural concept by Patkau Architects, Inc. / Kearns Mancini Architects, Inc., but are currently unfunded.
Garrison Common
The Fort York Foundation is also supporting the rehabilitation of Garrison Common, for which it received a $1-million leading gift from The W. Garfield Weston Foundation. The Foundation is also receiving significant support for landscape improvements from TD Bank Group.
Endowment and Acquisitions Fund
The foundation also raises funds for endowment of Fort York National Historic Site. An Acquisitions Fund was established in 2014 to support collections of artifacts and documents relating to Fort York (and curated as part of the City of Toronto Museum and Heritage Services' collections), which will serve to help interpret the history of the site.
For a full description of the Foundation's mandate and activities, please visit: www.fortyorkfoundation.ca or email This email address is being protected from spambots. You need JavaScript enabled to view it..
Contact us to learn how you can help preserve the spirit of Fort York and inspire visitors for generations.