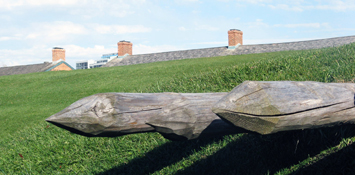 Documentary Videos
1812 On The Niagara Frontier

The War of 1812 had its centre on either side of the Niagara River. Some of its bloodiest battles were fought there and today the majority of forts and other sites surviving from the War are found near Niagara. This video introduces viewers in both the U.S. and Canada to Forts Niagara, George and Erie; to the Erie Maritime Museum; Brock's Monument; the Laura Secord Museum; and Lundy's Lane. But it also includes a significant segement on Fort York, Toronto.
A production of WNED-TV, Buffalo/Toronto, with contributions through the Central Canadian Public Television Association. 27 minutes. Produced by Andy Grant. Broadcast originally on April 23, 2013. PBS, On The Niagara Frontier, video
The Winter March
The Winter March, based on the wartime journal of eighteen year old Lieutenant John Le Couteur, dramatizes the 34 day 1100 km epic trek of the 104th Regiment from New Brunswick to Upper Canada during the War of 1812. Released for the bicentennial of this historic journey, this award winning 'Heritage Minute' film was produced by high school students and shot at Fort York with actors from the Friends of Fort York's Summer Guard.

Produced by Patrick Y. Lee and Eamonn O'Keeffe. Winner of Historica Canada's Heritage Minute Contest. 2013.