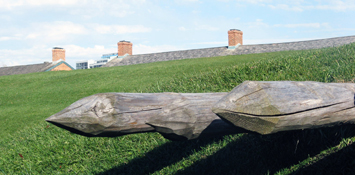 On The Many Sketches Of Toronto Blockhouses
by Stephen A. Otto, 30 June 2001
This essay was first published as an appendix to a catalogue, Sir Daniel Wilson (1816–1992): Ambidextrous Polymath (Toronto, 2001), prepared by Robert Stacey for an exhibition at the University of Toronto Art Centre.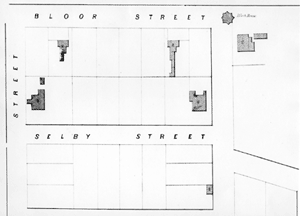 Fears of civil insurrection in Upper Canada lasted for some time after the rebellion of 1837 had been put down. Evidence of the military authorities' continuing concern for maintaining order is found in a trio of blockhouses built in 1838–39. They were intended to guard the roads to Toronto from the north, rather than "for defence against hostile Indians who might be approaching Toronto from the Don Valley," as was asserted in 1929 by H. H. Langton, the biographer of Sir Daniel Wilson.(1) Approval for their construction, estimated to cost about £330 in total, was given in November, 1838, by Sir George Arthur, the lieutenant-governor and commander of forces in the province.(2) Work went ahead so quickly that by the end of the year half the estimate had been spent.(3) One of the structures was located within the road allowance for Spadina Avenue between College Street and the nearby circle known as Crescent Gardens, later the site of Knox College; the second in the village of Yorkville on the east side of Yonge Street near Belmont Street; and the third in the centre of the intersection of Sherbourne Street and Bloor Street East. (fig. 1)
Writing in 1841, Capt. Thomas Glegg, a Royal Engineer employed on the construction of the New Fort [Stanley Barracks], described the blockhouses as being, "of two stories and made of square logs about 12" thick - A Guard bed is provided for 24 men on the lower Story - trestle bedsteads for 20 men on the Upper - & the usual Barrack fitments. Stoves on the lower floor answer the purposes of warmth & cooking - they are lighted and aired by 3 windows on each story, and loop-holed blocks are ready to fill in the openings when required for defence."(4)
Glegg sketched the Yonge Street structure - the other two were identical - with its pyramidal roof surmounted by a single chimney. The upper storey sat diagonally on the lower one, a variation in design that allowed better surveillance in all directions but restricted the range of downward (or machicoulis) fire that could be aimed at attackers.
By the 1850s, when the threat of a rebel invasion of Toronto had long disappeared, the blockhouses ceased to be manned by the military and were occupied instead by discharged soldiers acting as caretakers.(5) Additional windows were cut in the log walls to make the buildings more habitable, rendering them slightly different in appearance and easier to distinguish one from another. Little or no maintenance was carried out. An Inspectional report by the military in 1854 described the condition of the Yonge and Sherbourne structures as indifferent.(6) "It was curious to observe," Henry Scadding remarked in the early 1870s, "how rapidly these two relics acquired the character and even the look, grey and dilapidated, of age."(7) By then, the Spadina blockhouse had almost been forgotten, having been taken down before 1854.(8) According to John Ross Robertson, the Yonge Street building was demolished about 1865.(9) The one at Sherbourne and Bloor stood a while longer; Elmes Henderson recalled that it was pulled down by Sam Blake, its last owner.(10)
Apart from an awkward sketch of the Yonge Street blockhouse by F.H. Granger in 1849, artists did not rediscover these unusual buildings as subjects, particularly the Sherbourne Street one, until perhaps the early 1860s. Then, within a very short period of time, several drawings were made. Some of the views are signed and dated. R.J. Brough's drawing of the Sherbourne blockhouse (known only through a photograph) is inscribed October, 1862 (fig. 2), while a newly discovered watercolour from the same vantage point by Richard Baigent is dated 1863. (fig. 3) Other views of the Sherbourne structure are unsigned and undated. They include one nearly identical to the preceding pair (fig. 4) which may have been the basis for a pen-and-ink sketch by William J. Thomson (1858-1927) reproduced in John Ross Robertson's Landmarks of Toronto;(11) four watercolours (one of which is lost save for a photograph) attributed on good authority to Daniel Wilson (figs. 5-8); and a ghostly sketch on the back of a work by Henri Perré (1828-1890).(12)
This last-mentioned work by Perré, a watercolour dated 1863, shows the Yonge (sometimes called Yorkville) blockhouse. (fig. 9) This drawing may have been the inspiration for an engraved view of the building published in the Canadian Illustrated News in October, 1863. (fig. 10) Many years later this engraving was used to illustrate John Ross Robertson's Landmarks of Toronto.(13) For the sake of completeness, mention must be made also of an undated watercolour by an anonymous copyist showing the Sherbourne blockhouse in a landscape closely resembling the one in Perré's drawing of the Yonge Street structure, noted above.(14)
From this brief enumeration, two questions emerge: why were so many of drawings of blockhouses done concurrently, and why were Brough's and Baigent's views so similar?
The remarkable number of drawings done circa 1860 is not likely coincidental. One explanation for it may be the wave of nostalgia for log or timber buildings that gathered force as they began to disappear from the landscape in the U.S. and Canada. Baigent and Perré, both newly arrived in Canada, were likely fascinated by the romantic appearance and defensive role of the blockhouses. The beguiling appearance of antiquity of the Sherbourne Street building could have stirred in Daniel Wilson the same feelings that had given rise to his Memorials of Edinburgh in the olden time. Besides, since 1854 he had lived on the corner of Bloor Street and Huntley, only a short block away. Of his four sketches, three are much alike and were done from a position south of the blockhouse in front of the home of Prof. Jacob Hirschfelder, his neighbour and colleague at the University of Toronto. The fourth sketch shows the building from below, perched high above the Rosedale Valley.
Another reason for the rash of interest in blockhouses may have been the anxiety felt in Canada following an incident in late 1861 when two Confederate diplomats were forcibly removed from the English mail packet Trent by the captain of an American warship, giving rise to considerable tension between Britain and the U.S. Although the blockhouses were poorly located in the event of an American attack, their existence may have been comforting as sabres were rattled, the militia were drilled and Fort York was strengthened. Or perhaps a straightforward explanation is more accurate: people in the city had warning of the impending demolition of the last two blockhouses and simply wanted to record them while it was still possible.
None of this speaks, however, to the remarkable resemblance between the views of the Sherbourne blockhouse by Brough and Baigent. Of the two artists, the latter was the more prominent. Richard Augustin Baigent (1828-1890) had been an assistant drawing master at Winchester College in England before he emigrated to Canada in mid-1862. Shortly after his arrival he announced to "the gentry of the city of Toronto and its vicinity" that he would give private lessons in "Drawing, Painting in Oil, Water Colours, Crayons, and Sketching from Nature."(15) This brought attention to his work, and less than a year later he was chosen by a selection committee (of which Daniel Wilson was a member) to replace Stewart Westmacott as drawing master at Upper Canada College.(16) Besides teaching privately and at UCC, Baigent gave drawing classes at the Toronto Grammar School and under the auspices of the Toronto Mechanics' Institute. Elected a founding member of the Ontario Society of Artists in 1872, he was named an associate of the Royal Canadian Academy in 1880.
By comparison, Redmond John Brough (1846-1883) is unknown as an artist apart from his view of the blockhouse.(17) The eldest son of a leading lawyer in Toronto, he attended the Model Grammar School, was enrolled at UCC for the Fall term, 1863, and a few years later graduated from the University of Toronto.(18) At the time of his early death following a buggy accident, he was employed as City Engineer for Toronto.
There is no doubt that Brough had remarkable talent for one so young - barely sixteen when he sketched the blockhouse - although he was probably not self-taught in developing his gift. His watercolour is dated October, 1862, when he could have been taking lessons with Baigent and made the sketch under his supervision. This being the case, why is Baigent's view dated 1863, so similar? Coincidence is ruled out. It is possible - though unlikely - that the master copied the pupil's work. Or it may have been that Baigent had many of his pupils draw the blockhouse and he sketched alongside them. This suggestion is given some weight by the existence of the third, undated view of the building by a less-skilled, anonymous artist. (fig. 4) Worth considering too is that the date on either Brough's drawing or Baigent's may have been applied years later, perhaps by someone other than the artist, and was out by a year.
The actual circumstances may have been obvious in November, 1863, when "some excellent specimens executed in water colours, by Mr. Richard Baigent and his pupils" were exhibited in the window of a store on King Street, Toronto.(19) This display prompted The Globe to observe that these "original drawings executed solely by the hands of his pupils . . . furnish the most satisfactory proof of the ability and success of Mr. Baigent as a teacher." Regrettably, a fuller description of the exhibit was not given.

---
Figures
W. S. & H. C. Boulton, Map of the City of Toronto, [1858]. Detail showing blockhouse at Sherbourne Street and Bloor. (Toronto Reference Library)
R. J. Brough, [Sherbourne Street Blockhouse], October, 1862, photograph. (Toronto Reference Library, E 4-82a.)
Richard Baigent, "[Sherbourne Street] Blockhouse, 1863," watercolour. (Private Collection; photo courtesy of Toronto Reference Library)
Anon., "Old Block House on the East Side of Sherbourne Street . . ." n.d., watercolour. (NAC, C-1097)
"From a sketch of the old Yorkville [Sherbourne Street] Blockhouse/By the late Sir Daniel Wilson/C. H. C. Wright," n.d., photograph. (Toronto Reference Library, E 7-30)
Daniel Wilson (attr.), "Blockhouse, [Sherbourne Street], Yorkville," n.d., watercolour. (University of Toronto Archives, B73-0043/002(01))
Daniel Wilson (attr.), [Sherbourne Street Blockhouse], n.d., watercolour. (Private Collection; photo courtesy of Toronto Reference Library)
Daniel Wilson (attr.), [Blockhouse, Sherbourne Street, Toronto], c. 1860?, watercolour over pencil. (Toronto Reference Library, 953-1-1)
Henri Perré, [Yonge Street Blockhouse], 1863, watercolour. (Toronto Reference Library, JRR 333)
Anon., "The 'Old Block Fort,' near Yorkville, C.W.," Canadian Illustrated News [Hamilton], 17 Oct. 1863, 273. (Toronto Reference Library)
Endnotes
H. H. Langton, Sir Daniel Wilson, A Memoir (Toronto: Thomas Nelson & Sons, 1929), p. 68.
Toronto Reference Library (hereafter TRL), Sir George Arthur Papers, LB 4, p. 29
National Archives of Canada (hereafter NAC), RG8, vol. 447, ------
Ontario Archives, MU 854, Glegg Diaries
NAC, RG8, v. 1635, pp. 1-9.
Ibid.
Henry Scadding, Toronto of Old, ed. F. H. Armstrong (Toronto: Dundurn Press, 1987), p. 301.
NAC, RG8, v. 1635, pp. 1-9.
J. Ross Robertson, Landmarks of Toronto, v. 5 (Toronto: J. Ross Robertson, 1908), p. 336.
Elmes Henderson, "Bloor Street, Toronto, and the Village of Yorkville in 1849," Ontario Historical Society Papers and Records (1930) p. 446.
J. Ross Robertson, Landmarks of Toronto, v. 3 (Toronto: J. Ross Robertson,1898), p. 293.
TRL, John Ross Robertson collection, 333 verso.
J. Ross Robertson, Landmarks of Toronto, v. 5 (Toronto: J. Ross Robertson, 1908), p. 335.
NAC, acc. 1989-514-115. Unknown copyist, Old Block House. Corner of Bloor and Sherbourne St. Toronto from a sketch by H. Perré 1863. Watercolour over pencil with pen and brown ink, 18.8 x 24.7 cm.
The Globe [Toronto], 16 August 1862, 1.
University of Toronto Archives, A74-018/6, pp. 68-9, Minutes of Committee on Upper Canada College, 1859-75.
The Globe, 22 July 1883, 2.
A. H. Young, ed., The Roll of Pupils of Upper Canada College, Toronto, January 1830 to June 1916 (Kingston: Hanson, Crozier and Edgar, 1917).
The Globe, 17 Nov. 1863, 2.