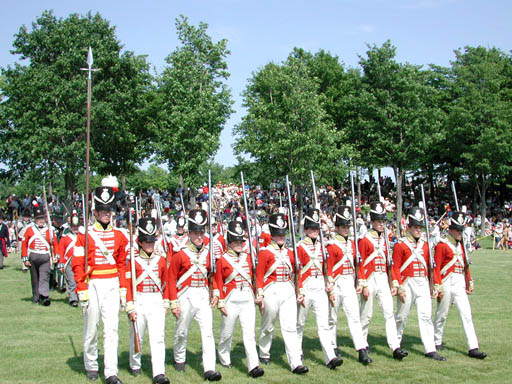 Stephen Otto and Fort York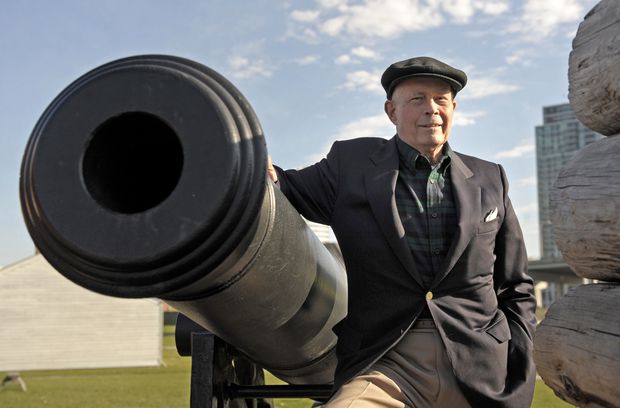 Stephen Otto is photographed at Fort York in Toronto in 2009. Fred Lum/The Globe and Mailby Andrew Stewart

On 22 April, we lost one of our best friends. Stephen Anderson Otto was mentor and colleague to many people, not only the dedicated people who have worked over the past 25 years to re-connect and enhance Fort York's public spaces with the City from which it was cut off more than a century ago, but also built heritage historians, biographers, architects, archaeologists, planners and thoughtful urbanists across the country. He was one of Canada's foremost and skillful advocates for the public realm. He was inspiration for younger generations of city-builders (in the best sense of that over-used word): people actively engaged in place-making, activists who draw on a place's history and architecture to improve the public realm.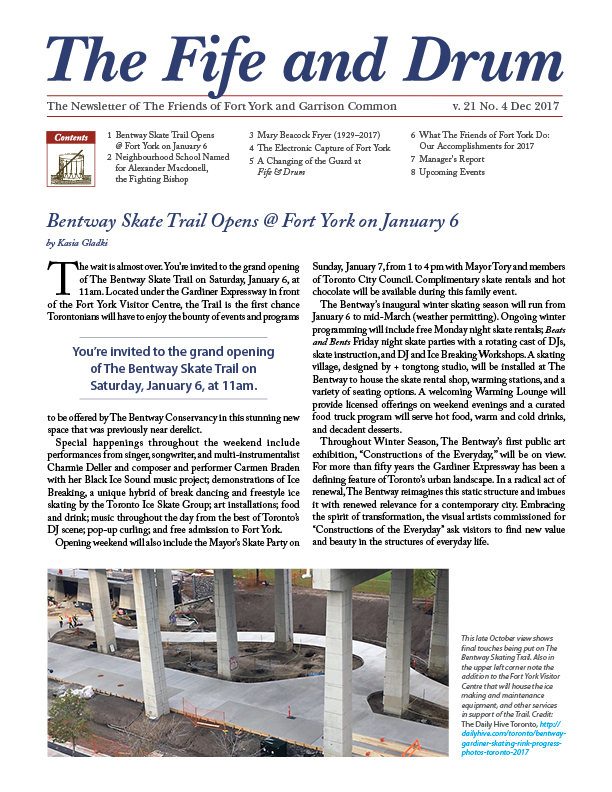 Steve Otto was managing editor of The Fife and Drum since its inception until Dec. 2017.
John Lorinc and Alex Bozikovic – two of Toronto's most thoughtful urbanists and journalists – have written a superb obituary of Steve for The Globe and Mail. Eight years ago, Chris Hume also wrote about Steve in The Toronto Star – the "Quiet Canadian" who knew how things worked and how history contributed to better planning and growth.
In April 1994, Steve was spokesman for an ad hoc group of citizens, which included Rollo Myers, Cathy Nasmith and Bob Allsopp, later incorporated as The Friends of Fort York and Garrison Common, commenting on and changing the course of short-sighted decisions then being made by City Council's Land Use Committee affecting the Fort's precinct. From the beginning, a major focus of The Friends was on enlarging Fort York National Historic Site and consolidating the layers of protection it now enjoys under legislation at all levels. It achieved its current size of 43 acres in 2003. Along the way, Steve and The Friends forged strong relationships with City Council and City staff. He became founding editor of The Fife and Drum, which has grown in 20+ years from newsletter to quarterly journal, run entirely by volunteers, conveying news about Fort York, past and present, to thousands.
The Friends of Fort York influenced precinct planning in such a way that the Fort and its 43 acres of protected green space became recognized by most as an asset, rather than a hindrance, to neighbourhood development. The view that it could be a central park with green connections into the surrounding city was championed by Steve and given form by DTAH in its Fort York Parks and Open Space Network. Today's Precinct Advisory Committee of The Friends, working closely with neighbours and various City and Provincial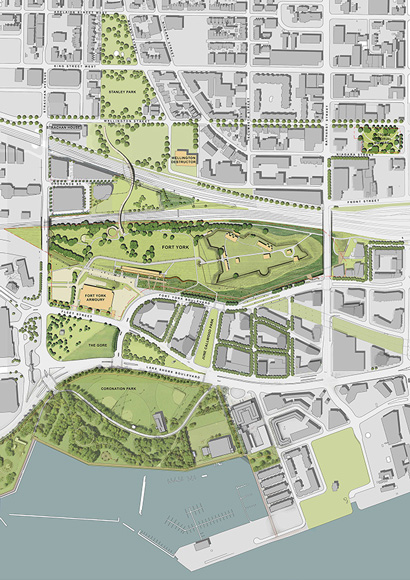 Fort York Parks and Open Space Network by DTAH for Friends of Fort York, 2014.agencies (most recently, Metrolinx), perpetuates this vital work. As developments and infrastructure are proposed, and as development lands change hands and short-term plans are discarded, The Friends consistently preserve a longer-term vision of Fort York-centred planning. This vision is based on the site's existing open space, which has persisted since its founding as a military site 225 years ago.
From the perspective of early 1994 – before The Friends came together – a more likely scenario entailed Fort York becoming further isolated, perhaps reduced to a 7-acre rump (a walled fort, with none of its adjacent open space, and without much connection to Garrison Common or the Armoury). The Fort was facing diminishment, being forgotten within a land-rush of development approved by an unsympathetic City Council. The Friends, led by Steve, with an eye to a better future, changed all this, first with an OMB challenge and then with negotiations and relationship-building with staff and councillors. (The achievements of The Friends on their 20th anniversary are told in The Fife and Drum 18(1) March 2014.)
Steve was also instrumental in establishing the Fort York Foundation (2006), to which he contributed generously, with the intent of setting an example for others to follow. He devoted much time and effort as a volunteer raising capital funds for Fort York. These efforts helped realize our beautifully designed Fort York Visitor Centre, which opened in 2014. The Foundation's Acquisitions and Conservation Fund was established by Steve in 2014 with initial donations to it from him. The Fund helps Fort York tell its remarkable story by strengthening staff's ability to acquire historically important objects. We are now re-naming this fund in his honour: the Stephen Anderson Otto Fort York Fund. He expressed the hope that, in future, this fund would continue to be supported by people who cared about the Fort.
A famously generous host and faithful and attentive friend to many, Steve was a highly accomplished, graceful man with a deep intelligence that inspired people from diverse backgrounds and generations across this city's public and private life to work and build common ground. We will miss him.
Manager's Report (Winter 2018)
by David O'Hara, Site Manager

On the heels of an event-filled Canada 150, we're expecting to return our focus in 2018 to the fort's core missions. Our calendar is still full, though, and we were off to a busy start with the opening of the Bentway's skating trail on January 6 and the Mayor's Skating Party the next day. The circuit certainly did what we expected it would in bringing hundreds of people down to Fort York from early in January to mid-March.
As a result of free admission during the opening weekend, we had an extra busy time in the fort itself. The same occurred during Family Day, with over 1200 visitors taking advantage of free admission to the site. As we continue to work with The Bentway Conservancy, we'll develop an approach that encourages more of the same. With the skating season finished, efforts have returned to completing construction on the remainder of the first phase of the Bentway. For more on the Conservancy, visit www.thebentway.ca.
More than 260 people visited Fort York on February 11 as we hosted a Sofar Sound pop-up show featuring Indigenous throat-boxer Nelson Tagoona, Juno-nominated Beny Esguerra, and local band Little Coyote. And on February 24 more than 100 people attended Hungry for Comfort: A Celebration of Canadian Food History. In what we intend to make an annual event, the day-long program supported by Redpath Sugar featured panel discussions, workshops, cooking demonstrations and a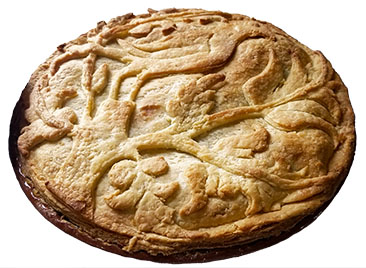 A Florendine of Oranges and Apples, by Mya Sangster, a Redpath First Place at Hungry for Comfort. Photo: Melissa Benyon catered lunch. Historic foodways of the French, English, Indigenous and Metis communities were all well represented; for a complete report, see the story from Melissa Beynon. Thank you to Bridget Wranich and all of our wonderful volunteers and partners who came together to make this event the success that it was.
Recently installed in the Brick Magazine are 21 images from the more than 30,000 photographs by Arthur Goss in the City of Toronto Archives collections. The photographs depict various aspects of Fort York's conversion from an active military establishment to a public museum in the early 1930s. Thanks to staff on-site and to the Collections and Conservation staff at Atlantic Avenue, Christophe Jivraj in particular, for making this happen in such short order.
As a staffing update, we're pleased to announce that Erica Roppolo will be joining the Fort York team as our permanent Museum Outreach Officer. Erica has been acting in the position for the past year and has previous experience as a Support Assistant and Museum Attendant at six of our Toronto History Museums. She has also worked with Nuit Blanche, the Luminato Festival and TIFF. Among those who've been here for years, quietly making the place better, volunteer cooks John Hammond, Sherry Murphy and Ellen Johnstone have been honoured by Queen's Park for their dedication to Fort York's culinary history (there's a picture nearby). Congratulations, and thank you for all 15 years!
On the construction front, we'll be pleased to see the first phase of the Bentway wrap up in the next few months along our Fort York Boulevard frontage. The same can be said for Garrison Crossing (the Fort York pedestrian bridge), which will be completed this year. These projects will go a long way toward better connecting the fort with surrounding neighbourhood.
There's good news and bad news to report regarding the fort's east gate connection to Bathurst Street. While working to replace the concrete deck on the east gate ramp, engineers found that the supporting bridge piers were not stable and had to be demolished. Instead of getting into the major cost of total replacement, a decision was made to remove the ramp entirely. This will finally allow for the proper rehabilitation of the fort's landscape and ramparts on that side. With the stairs at the south-west corner of Fort York Blvd and Bathurst, improved connections down through the library and into the coming Lower Garrison Creek Park, and from the west along a planned trail on the north side of the fort, the east gate will eventually be far more accessible than it has been for years.

The new pedestrian bridge to the east gate of the fort on June 17, 1931, in two views by Toronto official photographer Arthur Goss. They are in a new exhibition in the Brick Magazine of photographs by Goss documenting work done at the fort during the 1930s. Source: City of Toronto Archives
Managers Report (Fall 2017)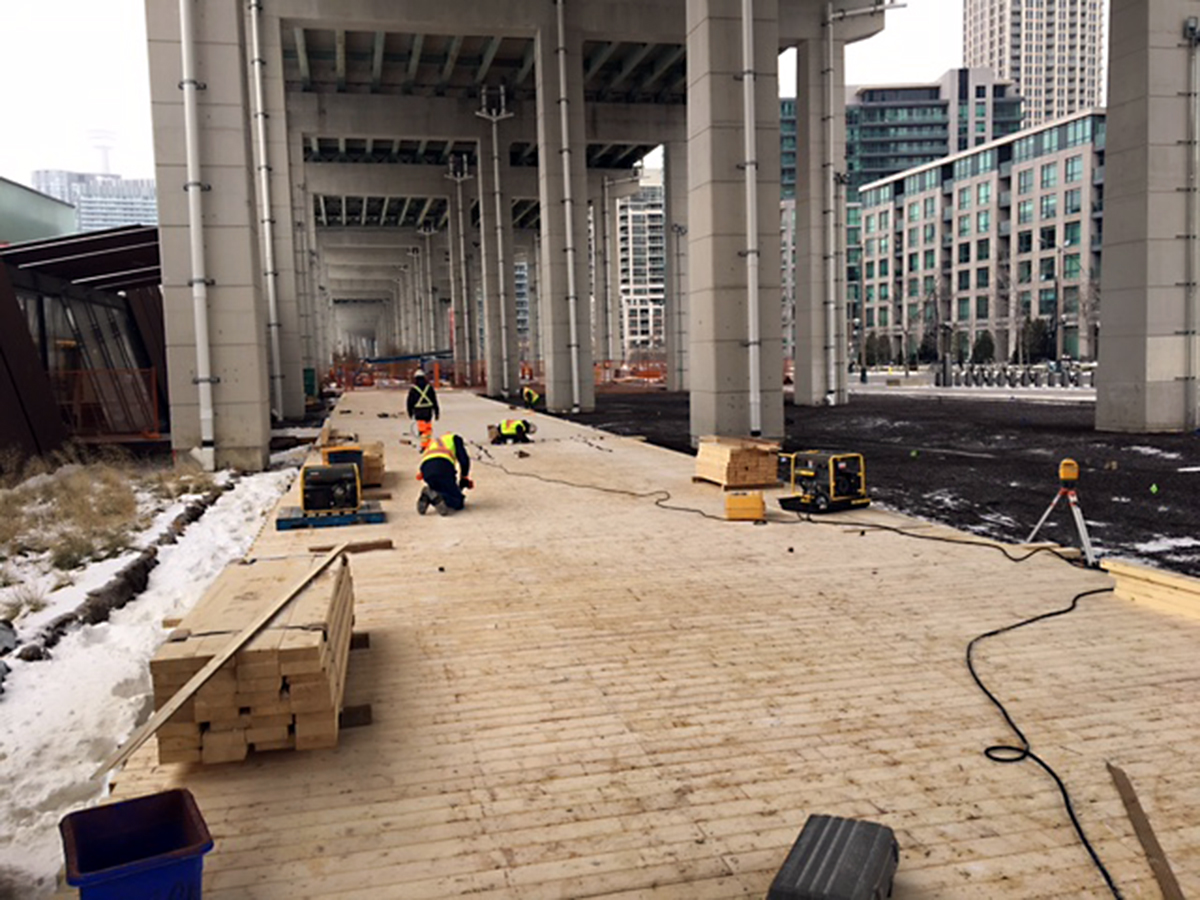 The Fort York Foundation has raised the funds which, combined with a federal government grant, has allowed Fort York National Historic Site to proceed with construction of the long-awaited Wharf (formerly known as the Events Dock) in front of the Visitor Centre. The Wharf is Fort York's new outdoor programming venue. It practically doubles the Visitor Centre's capacity for events in the warmer months and we can expect that it will be jointly programmed by Fort York and The Bentway. Credit: David O'Hara
by David O'Hara, Site Manager
2017 certainly proved to be the busy year we expected, with a wider and more diverse range of programs and events on-site at Fort York than ever. We moved from Queen Charlotte's Birthday Ball in January through to the Frost Fair and our holiday season baking workshops in December—with Vimy 100, the Indigenous Arts Festival, Simcoe Day, On Common Ground, and much more in the months between.
Following our active summer season we were honoured to be able to host the archery competition as part of the Invictus Games http://www.invictusgames2017.com and the annual Sick Kids Great Adventure Camp walk http://web.sickkidsfoundation.com/walkforsickkids
Our After Dark Lantern Tours in October were very popular, selling out on all but one of the nights. On November 7 we hosted the Vimy Foundation's launch of their exhibit The Great War in Colour. The event featured the premier of a short film by the National Film Board, with remarks by actor Paul Gross. Others in attendance included Lieutenant-Governor Elizabeth Dowdeswell. https://www.nfb.ca/film/return-to-vimy
Around the same time we opened a temporary mapping exhibit titled Canada before Confederation, produced by Dr. Lauren Beck of Mount Allison University. The exhibit, which includes a Toronto-specific component developed by Collections and Curatorial staff, will be on display until the end of April 2018.
Over 1100 persons attended our annual Remembrance Day ceremony, which marked significant anniversaries of Vimy Ridge, Passchendaele, and the Battle of Hill 70 as well as the 75th anniversary of the Dieppe Raid in the Second World War. Those placing wreaths as part of the service included MPP Han Dong, IODE representatives, TDSB and TCDSB trustees, and more. http://www.metronews.ca/news/toronto/2017/11/12/hundreds-gather-in-toronto-for-remembrance-day-service.html
In the fall we undertook work with an organization called CyArk to develop a photorealistic 3D model of Fort York. CyArk's work, which was funded by Iron Mountain, a records management and storage company, included an aerial survey, terrestrial laser scanning, and photogrammetry of the fort's grounds and buildings. The data products will be used to monitor site conditions, inform archaeological master planning, and support interpretive activities. We would like to thank both CyArk and Iron Mountain for their interest in ensuring Fort York National Historic Site is preserved for generations to come. http://www.cyark.org/news/iron-mountain-and-cyark-join-forces-to-digitally-preserve-fort-york-for-generations-to-come
As a staffing update, we're pleased to announce that Kristine Williamson is now our permanent supervisor of special events. Kristine, who had been acting in the position for the last year, is a museum professional with over ten years experience creating diverse and engaging cultural programming. She has a BA in Canadian History, a Master's in Public History, and has worked with a variety of organizations and museums across Toronto, including Mackenzie House, the Design Exchange, Lord Cultural Resources, and the Toronto Society of Architects.
Our staff continue to work closely with The Bentway Conservancy to get ready for a busier than normal winter season here at Fort York. The first section of The Bentway to be developed, The Bentway Skate Trail, will officially open to the public on Saturday, 6 January 2018 with the Mayor's Skate Party on Sunday, January 7.
As the entire first phase of The Bentway forms part of the National Historic Site, we're excited to be partnering with this new creative team to bring more people down to experience both The Bentway and Fort York. For more information, see the article by Kasia Gladki in this same issue or visit www.thebentway.ca
Signs pop up near Fort York, warning dog owners of shallow graves
by Ieva Lucs, CBC News
The museum manager wants to alert residents to the 19th Century burial ground beneath their feet
Signs around Strachan Avenue are warning dog walkers not to let their dogs dig in the 155-year-old military cemetery beneath their feet.
If you've been walking through the Strachan Avenue park recently, just west of Fort York National Historic Site, you may have noticed some curious signs popping up.
"Please don't let your dogs dig in this cemetery," they read. "Burials are often shallow."
The notices were put up by staff at the museum to alert dog owners to what is beneath their feet — approximately 200 graves dating back 155 years. To the far west side of a large area known as the Garrison Common, down between the railway to the north and the Gardiner Expressway to the south, is the Strachan Avenue Military Burying Ground.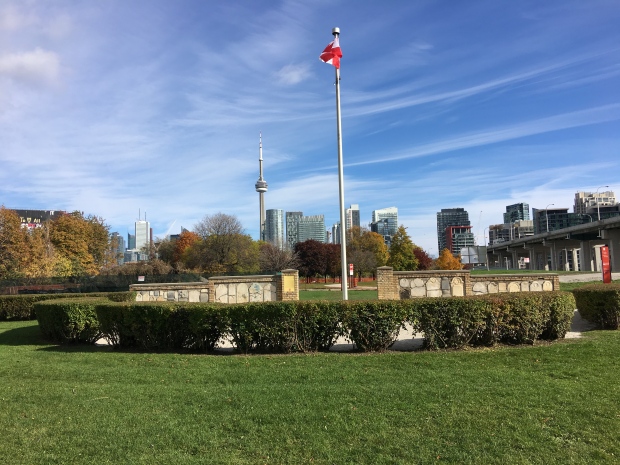 A view of the memorial area in the Strachan Avenue Military Burial Ground. (Greg Ross/CBC)
Soldiers and their wives and children were laid to rest in that area from 1862 to 1911. There are only records for 97 of the people buried in the cemetery. Most of the burials took place before the British army relinquished the garrison to the Canadian military in 1870. There may also be the remains of American soldiers who fell during the Battle of York in 1813. And lately, David O'Hara, the museum's manager, has noticed holes being dug in the cemetery ground, sometimes a foot deep. The culprits are presumably local dogs.
"We're not your typical park," O'Hara told CBC Toronto. "The entire central part of the Common is like the rest of Fort York — a registered archaeological site."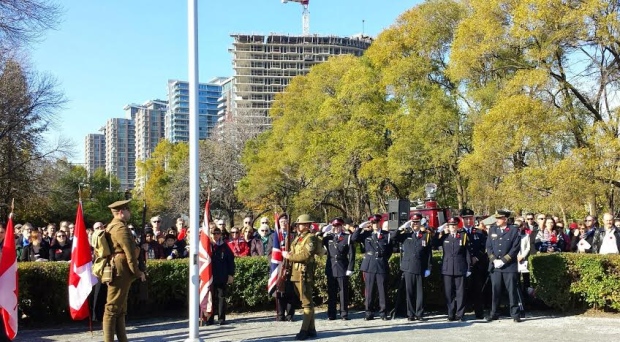 A view of the memorial area in the Strachan Avenue Military Burial Ground. (Greg Ross/CBC)
O'Hara says many people have moved to the area over the last few years, and more are coming, which could cause problems for a sensitive area like the 155-year-old cemetery.
A new pedestrian bridge, called Garrison Crossing, will cross the train tracks to the north to make it easier for foot traffic to move from Trinity Bellwoods Park and the Common. As well, the highly anticipated Bentway project is set to open this winter, not to mention all the new condos going up in the area.
Skating trail below the Gardiner turns unused land into public space
Preservation group tries to save 'precious' buildings in Liberty Village​
"There's thousands of new units going up around the fort," O'Hara told CBC Toronto. "A space that wasn't heavily used in the past is becoming increasingly used by all sorts of residents for walking their dogs and using it as a central part of the park system down here."
But he says they've been preparing for the influx of residents for quite some time. O'Hara says the fort welcomes new visitors to use the Garrison Common and Strachan cemetery as a thoroughfare. But, he says, they should also treat it with care.
"We want to move people through the space," said O'Hara. "And we want them to feel a sense of ownership when it comes to the fort."

'Service, sacrifice and commitment'


Warrant Officer Glenn Miller, retired after 25 years with the Royal Canadian Artillery, is a registered speaker for The Memory Project, which is an organization that brings schools and community groups together with veterans who volunteer to speak at events.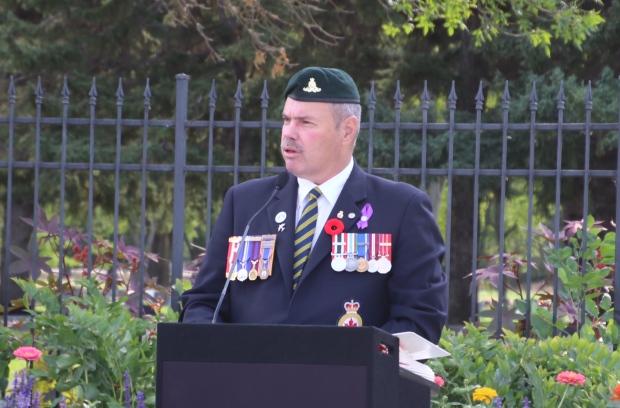 Warrant Officer Glenn Miller. (Submitted)
He says it's important for people to appreciate the fact that the military cemetery is so close to where they live.
"The country has been built on military participation throughout our history," Miller told CBC Toronto. "It's important that people know and understand the contribution that veterans have made, and to respect their service, sacrifice and commitment in helping to build their particular neighbourhood."
Fort York will hold a Remembrance Day ceremony at the memorial that stands on the cemetery site. Miller says people walking through the site that day, or any other, should keep those soldiers buried below in mind as they pass through the park.
"For many Canadians, they've never had the worry of having someone else's tank drive down their neighbourhood," said Miller. "We are fortunate to enjoy that freedom ... at a cost that's quite cheap compared to other countries."
Marc Lescoutre, a spokesperson for Veterans Affairs Canada, spoke to CBC Toronto about the issue.
"We would remind Canadians that these are special places, and ask them to remain respectful when visiting monuments war memorial and other sacred landmarks," said Lescoutre.