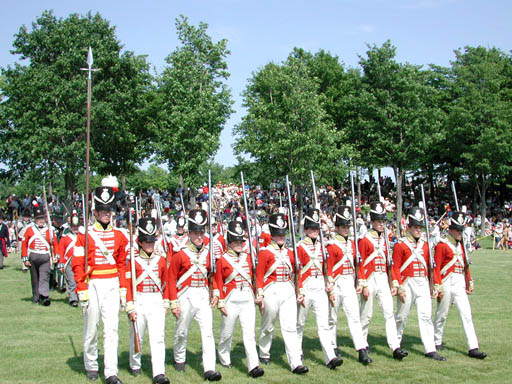 Fort York Guard on Pause in 2022
We very much regret to report that The Friends have not been able to obtain support from the City to operate the Fort York Guard this summer. The City has decided to put its relationship with The Friends of Fort York on pause to conduct a review of how closely the values of The Friends currently align with the City's organizational values and what steps might be required based on the outcomes of the process. The City determined that it was necessary to pause the Guard in the spirit of the review process. A timetable for the process has yet to be announced.
The Guard, consisting of the Squad and the Drums, is a joint and cooperative venture by the City of Toronto in partnership with The Friends of Fort York and has been a popular living history attraction at Fort York. We believe this will be the first time since 1955 that the Guard has not appeared at Fort York in the summer - it will certainly be the first time since The Friends of Fort York took on leadership for mounting the Guard in 1999.
We strongly believe that there is a place for living history alongside the many contemporary events that take place at the Fort. The Guard has provided a welcome and challenging summer employment opportunity for students which, in turn, has attracted support through federal grants. It has also fostered camaraderie and spirited competition with similar groups hailing from other historic forts in Ontario.
The Friends have always appreciated and recognized the intense loyalty and professionalism of the students who have served in the Fort York Guard. The quality of their music and drill demonstrations is second to none. We will hope to see a return of the Fort York Guard in 2023.
If you have views on this subject, please send them to This email address is being protected from spambots. You need JavaScript enabled to view it. .