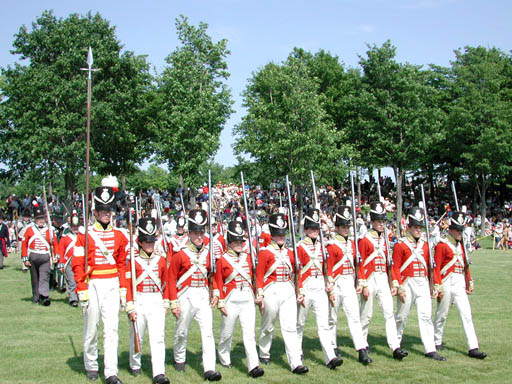 Fort York Visitor Centre: One for the Good Guys
by Christopher Moore
Friday, September 19, 2014

Went down last night to a celebration of the new Visitors' Centre at Fort York in Toronto. In Toronto where "cut taxes/starve services/bitch about lagging infrastructure" has been the dominant voice for decades, support for history and heritage still has a guerrilla, oppositional feeling to it. Actually getting this visitor centre built felt to a lot of people there like a victory against the odds after decades of defeats and disappointments. A federal minister and various private foundation types were there, but beneath that the vibe was unmistakable: the underdogs had actually pulled one off.

Tucked between a railroad line and an elevated highway in a grim light-industrial zone, Fort York has always struggled to connect with the city. But the area has suddenly been transformed by massive condominium development, amid a lot of smart urban design. The Fort has cleverly decided to make itself the community centre. With 43 acres of green space, it had something to offer, and it has already become a venue for festivals and concerts. Now its visitor centre will double as a community gathering space. Here's Urban Toronto's take on it.
The vision for Fort York is spectacular. A brilliant Fort York Visitor Centre will come to life after an engaging design competition . The concept by Patkau Architects Inc. (Vancouver) & Kearns Mancini Architects Inc. (Toronto) artfully references Fort York's historic context on the bluff of Lake Ontario in its inspired form and use of materials, while bringing the site into striking, contemporary focus.
With its new visibility and new amenities, Fort York is also poised to become the de facto Museum of Toronto that the city has been determined never to have. Next spring when Magna Carta makes its 800th anniversary world tour, it's the Fort York Visitor Centre that will host it in Toronto. And the current temporary exhibits - pending enough money to put up the actual Fort York materials – give a taste of the unseen Toronto collections that finally have a display venue.

It's a terrific building, but more it's a display of smart civic planning, in which heritage and historical values are actually shown to work hand in hand with housing development, recreation, and even traffic needs. Go see.

Elsewhere in museums, today is the opening of the Human Rights Museum in Winnipeg. Human rights is so inherently political and confrontational that they have had their struggles. I hope they just accept that, and go on being all confrontational and in your face, damn the protesters.
http://christophermoorehistory.blogspot.ca/2014/09/fort-york-visitor-centre-one-for-good.html
Manager's Report (summer 2014)
by David O'Hara, Site Manager

As expected, the summer season at Fort York was busy with many activities, large and small. On the music front our calendar included a combination of larger events such as Toronto Urban Roots Festival and TIME Festival, and smaller more intimate programs such as the series produced in partnership with the Guelph Jazz Festival. On July 13 we launched the inaugural New Generation Steelband Festival in partnership with the Pan Arts Network, featuring ten steel pan groups with strong youth participation.
Working with the David Suzuki Foundation's Homegrown National Park Project an outdoor screening of "Project Wild Thing" attracted an audience of almost one thousand and on a beautiful evening in early August twenty families spent the night camping at Fort York as part of the first Homegrown Jamboree. In partnership with Fresh Air Cinema, and sponsored by Scotiabank, additional free outdoor movie screenings continued on Tuesday evenings throughout August.
Following stops in cities such as Dublin, London, Helsinki, and Milan, and before moving on to Rome, Moscow, and Stockholm, Taste of Toronto landed at Fort York as the first North American stop for the international restaurant festival. The event brought thousands down to Fort York to sample food from some of the city's best chefs, restaurants, and exhibitors. The fort was open for visitors to enjoy throughout the festival and the Fort York Guard figured prominently.
After beginning our season with Canada Day and hosting the Afghanistan Memorial Vigil, our core programming continued throughout the summer. On Simcoe Day we again partnered with the Ontario Black History Society to mark Emancipation Day and the role of our first Lieutenant-Governor in gaining freedom for Black people in Ontario.
Showing no signs of letting up, our events and programs will continue throughout the remainder of 2014. Next up is the On Common Ground Festival on September 20-21 and our Great War Food Symposium on September 28. We hope everyone marks October 4 in their calendars for Nuit Blanche when Fort York will play a key role as one of the curated zones for contemporary art installations. The entire site, including the new Visitor Centre, will be brought to life throughout the night.
The construction of our Visitor Centre is nearing completion with the grand opening celebration coming up September 20-21, noon to 7 pm daily, alongside our On Common Ground Festival. The official ribbon cutting will take place at 2 pm on Friday, September 19, and the building and exhibits will be open and free throughout the rest of the weekend. Inaugural exhibits are focussed on the Great War and will draw from the City of Toronto's collection of artifacts, archives, and fine art. Other components will include Charles Pachter's 1812: The Art of War Series and An Act of Timing, an art installation by Nestor Kruger that transforms Woodrow Wilson's 1918 Fourteen Points speech to Congress into a large, non-repeating, geometric wall pattern.
The opening of the new Visitor Centre marks a major shift in how visitors will arrive and begin their Fort York experience. While the new building will officially open in September, a significant amount of work in and around the site will be completed over the fall and spring. This includes important landscaping, including demolition of the Garrison Road bridge and reworking our parking lots, and the development of permanent exhibits within the Visitor Centre and elsewhere on-site. We appreciate everyone's patience as we welcome change in the months ahead.
Manager's Report (spring 2014)
by David O'Hara, Site Manager
Having reached the 90% mark, construction of the Fort York Visitor Centre is moving along nicely with full completion scheduled for early July. Now that all of the horizontal weathered steel panels are in place, the vertical weathered steel panels and exterior channel glass, which form the main façade of the building, will be installed over the next month.
Although the plan is to officially open the building in September with inaugural exhibits, much of the work on interior and exterior finishing will continue throughout the remainder of the year. The main landscape work will be undertaken in the fall, after the building opens and when our busy summer event season has concluded. This work will include the removal of the Garrison Road bridge and its replacement with a lower level road which will connect Garrison Road with the main entrance and parking lot off Fort York Boulevard.

Garrison Road will be reconstructed in a manner which treats it as more of a primary pedestrian route through the Common. The final treatment will be narrower in width with much nicer paving and pedestrian scale lighting. We are also investigating whether or not we might be able to afford placing the overhead power lines below grade. Improvements across the Common will include new walkways and interpretive and wayfinding signs. All of this work has been made possible with the funding provided by the W. Garfield Weston Foundation. Funding from TD Bank Group will allow us to undertake improvements within the Strachan Avenue Cemetery in conjunction with those noted above.

By the end of this year, and certainly into spring of 2015, the relationship between the walled portion of the Fort with the Visitor Centre, Garrison Common, and main entrance will make much more sense. A main entrance address of 250 Fort York Boulevard will make Fort York much easier to find and the site will be much easier to access by an internal road network and new pedestrian/bicycle routes.

In the middle of planning for these very significant changes, we're still working on many other projects and implementing a busy summer event calendar. Doors Open Toronto brought over 3400 through the fort in late May before we moved on to the Grid Burger Day and Arts and Crafts Field Trip at the beginning of June, with attendance of approximately 4000 and 15, 000 respectively.

On June 5 we were honoured to host, in the presence of His Royal Highness The Duke of York and The Honourable David C. Onley, Lieutenant-Governor of Ontario, The Trooping of the Guidon of The Queen's York Rangers. As part of this event, the Lieutenant-Governor presented a handmade reproduction of the Royal Standard of George III along with an accompanying current version of the Lieutenant-Governor's personal standard. Both flags will be integrated within a future exhibit at Fort York. Images from this event can be found at https://www.flickr.com/photos/lgontario/sets/72157644620393817/.

On June 20-22 our own Indigenous Arts Festival celebrated traditional and contemporary music, dance, theatre, storytelling, visual arts, crafts, and food created by indigenous artists from across Ontario and British Columbia. Hosted by the Mississaugas of the New Credit First Nation, this free festival energized Fort York with powerful ancient traditions and compelling contemporary creations.

Leading into Canada Day this year, we're honoured to host Canadian Joint Operations Command and the Afghanistan Memorial Vigil in the Blue Barracks at Fort York. The aim of the Memorial Vigil is to pay tribute, in key geographical locations, to the sacrifice of Canadians and their allies who were part of the Canadian mission in Afghanistan. As the only Toronto stop for the Memorial Vigil, it will be on site at the fort from June 27 to July 3 and will be open in the evenings until 9 pm. Access to Fort York is free.

Throughout the summer both construction and a wide range of popular events will continue.
Administrator's Report (winter 2014)
by David O'Hara, Site Manager
As part of Fort York's usual calendar of events, 2014 began with Queen Charlotte's Birthday Ball on January 18. The day included afternoon dance workshops, a presentation by Chief Curator Wayne Reeves, and a Georgian inspired buffet supper. After hosting a cooking class on Georgian desserts in early February, staff and volunteers of our Historic Foodways Program worked closely with the Culinary Historians of Canada on the eighth annual, and sold-out, Mad for Marmalade, Crazy for Citron! on February 22.
Also in February, as part of Black History Month, we were extremely grateful that Lt. Danielle Pittman, Canadian Armed Forces, was able to join us to present Moving Mountains: The No. 2 Construction Battalion and African Canadian Experience during the First World War. The No.2 Construction Battalion, a predominantly Black unit, served with distinction overseas during the 'Great War.' This was the first of many events and programs that we expect to roll out over the coming months as we begin to do our part in commemorating the centenary of the Great War.
In late January / early February we hosted a new artist-in-residence program. This was the first of four artistic residencies by Toronto modern dance company pounds per square inch. Their site-specific Art of Peace Project, to be created over the next two years on site in the fort's Blue Barracks, will be performed in February 2016.
Our 2014 calendar is a full one. In addition to many core events, we have an exhibition by visual artist Phil Cote scheduled in April, along with one of our annual Citizenship ceremonies on the 25th, and community clean-up day on April 26th. Our main event season kicks off in late May and early June with Doors Open, The Grid Burger Festival, the Arts and Crafts Field Trip, and our own Indigenous Arts Festival.
Construction of the new Visitor Centre is moving along, with recent work on all mechanical systems, framing, and the roof membrane finished and the building fully enclosed. Interior work, including drywall and door installation, is underway and the building is scheduled for occupancy in late June/early July. Although subject to change, the current plan is to open the building in September with a series of events and inaugural exhibitions and installations related to the Great War. Several of the permanent exhibits will be installed in early 2015. While a major phase of the landscape master plan will be implemented in 2014, most of the work will be undertaken later in the year when the Visitor Centre is complete and the major event season has concluded.