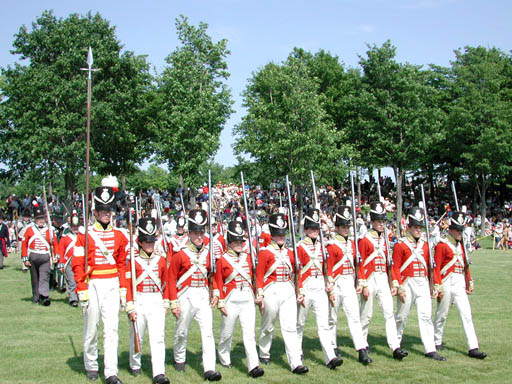 Canadians commemorate 200th anniversary of Battle of York
Monday, April 29, 2013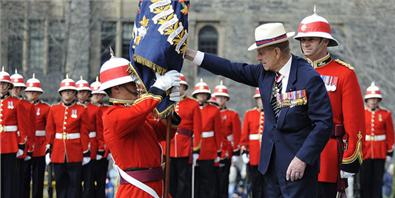 His Royal Highness Prince Philip, The Duke of Edinburgh (HRH), presents new regimental colours to the 3rd Battalion, The Royal Canadian Regiment. Photo: Sergeant Colin Kelley, Royal Canadian Air Force Toronto, Ontario — The City of Toronto and the Canadian Armed Forces (CAF) commemorated the 200th anniversary of the Battle of York in Toronto, Ontario, on April 27.
Events took place throughout the day that reminded Canadians of their history, including demonstrations by present-day CAF members, a march, and ceremonies to mark April 27, 1813.
The day's festivities began with dynamic displays by the 3rd Battalion,The Royal Canadian Regiment (3 RCR), including an urban patrol, rappelling, and a parachute demonstration.
Afterwards, His Royal Highness Prince Philip, The Duke of Edinburgh (HRH), who has been Colonel-in-Chief of The Royal Canadian Regiment since December 1953, presented them with a new Regimental Colour on the steps of the Ontario Legislature at Queen's Park.
"The 3rd Battalion is incredibly proud to have received their new Regimental Colour from our Colonel-in-Chief. (...) Today was the culmination of many weeks of hard work, discipline and a relentless pursuit of excellence, which we hope resonates with those came to watch the ceremony," said LCol David Quick, Commanding Officer of 3 RCR.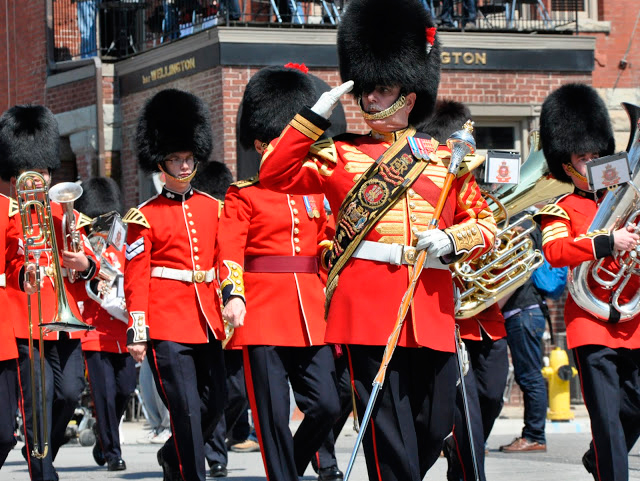 Royal Regiment of Canada band; part of the Canadian Forces' military parade to commemorate the City of Toronto's Battle of York bicentennial, 27 April 2013. Photo: Kathy Mills.Following the presentation of the Colour, a military parade began at Queen's Park, ending at the Fort York National Historic Site, the birthplace of urban Toronto and the location where the Battle of York came to its violent climax in 1813. Over 1400 CAF members participated in the parade, with marching bands, Regimental Colours and ceremonial uniforms giving Toronto a taste of the CAF's rich heritage.
At the Fort York National Historic Site, modern forces joined re-enactment regiments for a commemorative ceremony for the Battle of York. Following this, a ceremony was held which celebrated the significant contributions of First Nations peoples.
"The day was an important way to link ourselves with our history," said LCol Phillip Halton, Commanding Officer of the Queen's York Rangers. "We often think of war and conflict as happening somewhere else. But this happened here. And, when we look back, the things we are doing today are not that different from what our forebears did - it gives us a sense of continuity."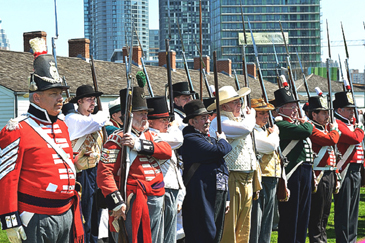 Re-enactors in regular uniforms and a militia dressed more casually present arms at Battle of York Day ceremonies at Fort York on 27 April 2013. Photo: Department of National DefenceThe Battle of York was the largest military conflict in Toronto's history. Approximately 1700 U.S. soldiers advanced on York (Toronto), then the capital of Upper Canada.
U.S. land forces, commanded by BrigadierGeneral Zebulon Pike, and supported by Commodore Isaac Chauncy's naval force, confronted the British Major-General Roger Hale Sheaffe. Under Sheaffe's command were 300 British regulars, 500 soldiers from the 1st and 3rd regiments of York militia, and 50 Mississaugas and Chippewas First Nations allies.
Brigadier General Pike and thirty-nine U.S. soldiers were killed, and 222 were wounded. For the British, over 150 were killed or wounded, and 290 were captured.
"I think it is important to consider what our forebears - the people who fought 200 years ago - would think," said LCol Halton. "Would they be proud of us? I hope so. This is what I take from the 1812 commemorations and it drives me to work hard to maintain a high standard."
Even though the forces defending York were defeated, the battle is an important part of Canada's past. The 200th anniversary of the War of 1812 gives Canadians an opportunity to take pride in our traditions and to commemorate our shared history.
Directorate of Army Public affairs, DND
Administrator's Report (winter 2013)
As we move into April, the final stages of planning are underway for the Bicentennial Commemoration of the Battle of York on Saturday, April 27th. Details regarding the program for April 27 and other events can be found at www.toronto.ca/1812. While significant efforts have gone into preparing for key Bicentennial activities, staff at Fort York have already mounted several successful events to mark the new year. The annual Queen Charlotte's Birthday Ball and Mad for Marmalade, Crazy for Citrus! provided opportunities for our culinary experts to shine, and on February 24th as part of Black History Month, Gareth Newfield gave a talk on "Free Men of Colour: African Canadians and the Defence of Upper Canada, 1812-1815."
Since planning for all of our programs and events is undertaken by a small team, I'm pleased to announce that we have two recent additions to the group. In the fall of 2012 Kristine Williamson was the successful candidate for the position of Museum Outreach Officer at Fort York. With an undergraduate degree in Canadian history and a graduate degree from Western University's Public History program, Kristine has worked at a number of heritage sites and organizations, including the Design Exchange and Lord Cultural Resources. Kristine had been at Fort York on a temporary basis since October of 2011 and was a key player in the programs and events held throughout 2012.
In February Robert Kerr was hired as Supervisor, Special Events. Robert is an arts professional with a long history in developing cultural organizations and delivering arts festivals and events. Career highlights include positions as Program Director for the Vancouver 2010 Cultural Olympiad, founding Executive Director of Coastal Jazz & Blues Society / Vancouver International Jazz Festival, founding President of the national arts service organization Jazz Festivals Canada, and Producing Artistic Director of Major Civic Events for Vancouver 125. Robert moved to Toronto in February 2012 and has spent the past year providing consulting services to Ontario arts and cultural organizations including the Aga Khan Museum, Canadian League of Composers, Guelph Jazz Festival, and Small World Music.
It is also a pleasure to report that Ned Gallagher has been hired as our new part-time Program Instructor. As a volunteer, a member of the Fort York Guard, and as Guard Supervisor, Ned already has several years of experience at Fort York and is a welcome addition to the staff team.
From the trenches, where the excavation for the new Visitor Centre is underway, Project Manager David Spittal reports that construction continues despite the loss of several days due to bad weather. Work was recently completed on storm sewer infrastructure, connecting the new facility to the main sewer system. At this point the anticipated time of building completion is early May 2014, with exhibit installation and final landscape improvements to follow. Restoration work underway in both the Officer's Brick Barracks and Mess and the Brick Magazine, led by Project Manager Gordon Lok, is scheduled to be completed by the end of March.
The Fort York Pedestrian and Bicycle Bridge is still moving ahead. On January 31 a public meeting was held to discuss plans for the development of the Ordnance Triangle to the north of Fort York. In addition to a presentation on the development proposed for the lands, city staff provided an update on the Fort York Bridge. As part of an Environmental Assessment Addendum required for the bridge, staff presented three bridge options for further review and costing. The main difference between these new options and the original bridge proposal is that the bridge is now being conceived as two separate structures with shorter spans instead of one longer single-span structure. The two smaller bridges will touch down in the middle of the Ordnance Triangle with improved access for new and existing residents and a direct connection to the future park within the triangle. Staff will be reporting back at a future meeting on the recommended option for the Fort York Bridge. Please visit www.toronto.ca/involved/projects/ftyork_bridge/index.htm for detailed information.
Work on the Garrison Common with DTAH continues with improvements planned for 2013 and 2014, and progress on the east end of the national historic site with the Toronto-based design studio Public Work is currently at the stage of public consultation. A public meeting for this project was held at Fort York on March 7th and a second will be scheduled at some point in April. Our colleagues in the city's Parks, Forestry and Recreation Division are in the process of awarding the construction contract for June Callwood Park. This new park will be located to the immediate south of the fort, making a strong connection to the system of waterfront parks. While construction will begin this year, it is expected that some of the final planting and other finishing touches will extend into 2014.
by David O'Hara, Site AdministratorSupervisor
City of Toronto and Canadian Forces to commemorate the Battle of York bicentennial with events on April 27
Details of the many events commemorating the 200th anniversary of the Battle of York were released in a presentation to the City of Toronto's Economic Development Committee today. The City of Toronto and the Canadian Forces will commemorate this defining day in the history of Canada and Toronto on Saturday, April 27.
"I'd like to invite residents and visitors to come out on April 27 as Toronto honours the bravery and sacrifices of those who fought - and in some cases died - on that historic day 200 years ago," said Mayor Rob Ford.
His Royal Highness Prince Philip, The Duke of Edinburgh, will present a new Regimental Colour to the 3rd Battalion of The Royal Canadian Regiment at a 10 a.m. ceremony in front of the Queen's Park Legislative Assembly of Ontario. His Royal Highness has been the Colonel-in-Chief of The Royal Canadian Regiment since December 1953.
After the presentation and consecration of the new Regimental Colour, a parade of more than 1,000 sailors and soldiers from the Royal Canadian Navy and the Canadian Army will march from Queen's Park to Fort York. This parade of marching bands, ceremonial uniforms and Regimental Colours will be one of the largest military parades ever organized in Toronto.
At 1:30 p.m., a commemorative ceremony will be held inside the walls of Fort York National Historic Site. Among the participants will be re-enactment units in War of 1812 uniforms, First Nations whose ancestors fought in the battle, and an honour guard of sailors and soldiers of the Canadian Forces who serve in Toronto today.
"The Battle of York was the only time Toronto has experienced war and so it is very important to remember such a significant day in our city's history," said Brigadier-General Omer Lavoie, Commander Joint Task Force Central/Land Force Central Area. "We are pleased to collaborate with the City of Toronto to commemorate the Battle of York on April 27 to remember the sacrifices that were made by so many."
"The Battle of York's day of remembrance is among more than a hundred Toronto War of 1812 Bicentennial events," said Councillor Michael Thompson (Ward 37 Scarborough Centre), Chair of Toronto's Economic Development Committee. "The events held so far have attracted more than a half million participants and have had a significant economic impact on the city."
The City of Toronto will also offer free themed tours at Fort York in the morning and afternoon, along with family-oriented activities and military demonstrations in the afternoon.
The important role the First Nations had at the Battle of York and throughout the War of 1812 will be remembered with a sunrise ceremony on the western waterfront and with a plaque dedication at Fort York National Historic Site at 3 p.m.
There will also be rededication ceremonies for two plaques: one commemorating the death of General Pike, which was originally donated to Fort York in 1934 by the National Society United States Daughters of 1812, and a second marking the battle location, donated by the Imperial Order of the Daughters of the Empire.
Throughout Saturday and Sunday, St. James Cathedral, the St. Lawrence Market BIA and the Toronto Public Library will be staging ceremonies and events.
During the Battle of York, which took place April 27, 1813, Toronto - at that time called the town of York - was occupied by U.S. combatants. The town's public buildings were burned to the ground. More than 180 Canadian, British, First Nations and American combatants died in the battle - the largest military conflict ever to have taken place in Toronto.
The War of 1812 was a defining chapter in the story of Canada and Toronto. More information about the City's bicentennial program and events is available at http://www.toronto.ca/1812.
Administrator's Report (late fall 2012)
by David O'Hara, Site Administrator
2012 has certainly proved to be the busy year we all expected. In addition to our regular roster of programs and events we were able to add new offerings throughout the year. Most recently, we scheduled more than sixteen special event days in October, including the tremendously successful food symposium "Best Before 1812." In November we hosted one of two annual Citizenship Ceremonies and at least 900 attended our Remembrance Day memorial. The year comes to a close with the Fort York Frost Fair on December 8–9 and programming throughout the weeks of December 15–31.

An expansion of activities, combined with the efforts of our staff and volunteers, has resulted in a significant increase in attendance in 2012. Staff worked hard to keep up with a calendar booked for school groups; the Canteen's success continues; and our site rentals have increased significantly throughout the year. Largely as a result of the efforts of Kristine Williamson, Museum Outreach Officer, Fort York hosted several unique events in 2012. These included the 2012 Bliss Ball, where the Dilawri Foundation raised more than $1 million for the Sick Kids Foundation; it featured Grammy and Oscar winner Jennifer Hudson, Steven Page, and Martin Sheen. Other occasions were Diner en Blanc, many smaller private bookings, and five successful concerts on Garrison Common.

Those attending recent events at Fort York might have noticed our new team of front line volunteers–our 'Garrison Greeters' and 'Heritage Hosts.' This new program was developed then launched as a result of our ongoing partnership with the Evergreen Foundation and thanks to the financial support of RBC. Our Volunteer Coordinator, Cathy Martin, has done a wonderful job recruiting and training over 100 volunteers to assist during special events. As we move into 2013, and with the Visitor Centre opening in 2014, the roles filled by our volunteers are becoming increasingly important (visit www.fortyork.ca for more information).

In 2012 restoration work on the Stone Magazine was finally finished and an exhibit on Black Powder installed. Restoration work is also underway on both the Officers' Brick Barracks and the Brick Magazine. Early in 2013 our new interpretive and way-finding signs will be installed. The recent start of construction on the Visitor Centre has required the closure of our Fort York Boulevard entrance. This access will be closed for the duration of construction, requiring those arriving by vehicle to use the entrance at Fleet Street and Garrison Road. When the Visitor Centre opens in 2014 Fort York will be easier to find and easier to access. It will have a more visible street presence with the main entrance at 250 Fort York Boulevard. Working with the Toronto Parking Authority, we have recently implemented a 'Pay and Display' parking system at Fort York. Given our location in downtown Toronto, with many other major tourist destinations in the vicinity and 6000 new units of housing to the immediate south, the need to implement such a system was pressing. The objective is to keep the small amount of parking that we have priced reasonably, but available at all hours. The majority of net revenues from the parking operation will be directed back towards programming at Fort York.
Work on the Landscape Master Plan also continues. This Plan is the clearest way of demonstrating how all of the component pieces that are Fort York come together. They are the new Visitor Centre, the Fort York Pedestrian and Bicycle Bridge, a rehabilitated and expanded Garrison Common, the Strachan Avenue Cemetery, the interface with the Fort York Armoury, and the lands that extend under Bathurst Street to CityPlace and to a new Toronto Public Library on the eastern boundary of the national historic site. Eventually, this assembly of pieces will make more sense as one coherent whole, providing a much stronger visual and physical presence for the fort and providing many more opportunities for interpretation of the site and its significance.

Landscape Master Plan for Fort York National Historic Site. Prepared by DTAH, Toronto, 2012.